Showcasing New Technologies at the 71st ASMS
Conference on Mass Spectrometry and Allied Topics
Shimadzu Scientific Instruments (SSI), a Shimadzu group company in the United States, exhibited at the American Society for Mass Spectrometry (ASMS) annual conference in Houston, held from June 4 to 8!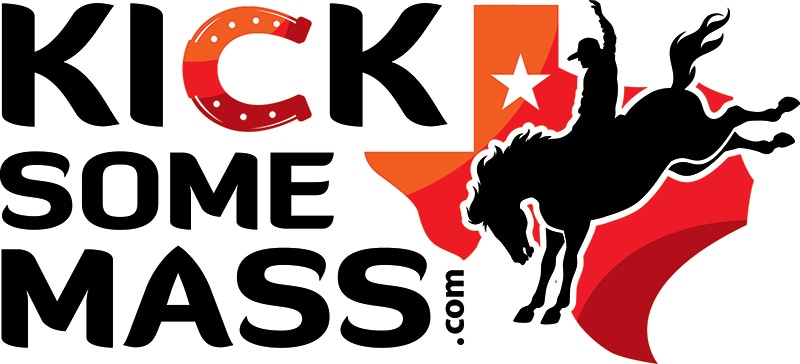 Each year, SSI designs a special "KickSomeMass" logo to represent the host city
ASMS is the preeminent professional organization related to the topic of mass spectrometry and allied topics. Formed in 1969, membership exceeds 8,500 scientists from around the world. During the conference, SSI highlighted several new systems while also showcasing its full range of LC-MS, GC-MS, MALDI, and UHPLC equipment.
Exhibit Hall Booth and Hospitality Suite
At ASMS 2023, Shimadzu had both a booth in the exhibit hall and hosted a hospitality suite. In this booth, SSI exhibited its triple quad LCMS-8050 and MALDImini-1 digital ion trap mass spectrometer.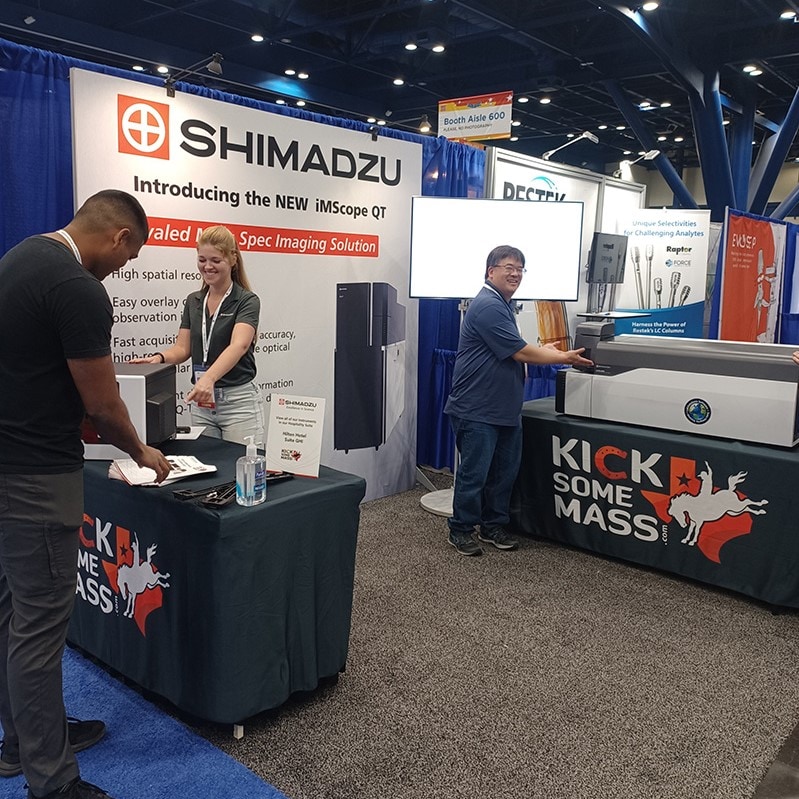 SSI members setting up the Shimadzu booth
In the hospitality suite, Shimadzu displayed its full range of products, with a special focus on the following new products getting first introduced to the mass spectrometry community.
Christopher Gilles, General Manager, Product Group, introduced the Hospitality Suite.
| New Products and Techniques | Detail |
| --- | --- |
| Benchtop MALDI-TOF Imaging Kit | This kit is a value-added package to complement existing and new users of the MALDI-8020 or MALDI-8030. The compact format provides a welcoming platform by combining the ease of MALDI analysis with extremely intuitive software in an all-inclusive imaging kit. |
| CLAM-2040 Sample Prep Module for LCMS | A fully automated online sample preparation module for LCMS analysis, the CLAM-2040 is designed to improve overall efficiency of biological sample preparation and analysis by reducing manual operations, saving time and expense. |
| LabSolutions Insight Software for Biologics | Designed for use with the LCMS-9030 and LCMS-9050 high-performance liquid chromatograph quadrupole time-of-flight (Q-TOF) mass spectrometers. Insight Biologics automates the oligonucleotide characterization workflow and significantly improves efficiency. |
In addition, the hospitality suite served as an area for conducting product demonstrations during the day, while offering a fun atmosphere at night for the conferees. SSI provided giveaways, such as a t-shirts and hats, each night, and offered a graffiti wall for attendees to get a souvenir with their friends and colleagues.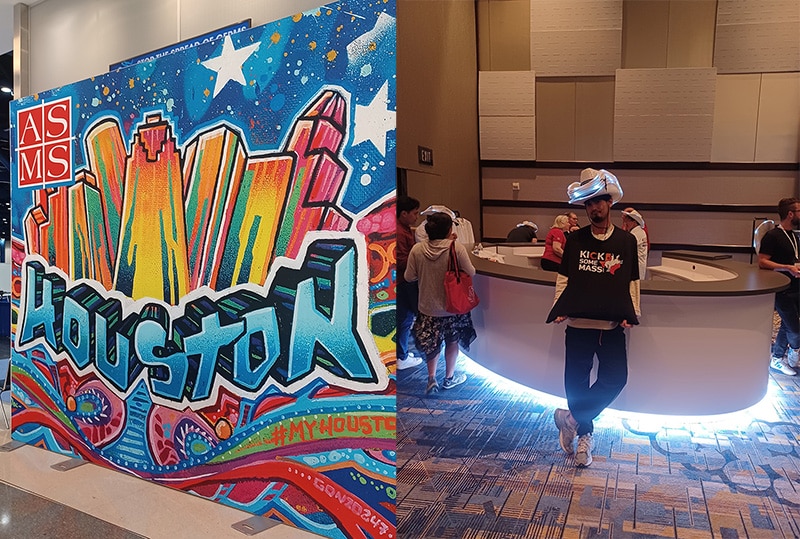 Breakfast Seminars and Poster Presentations
In addition to the booth and suite, SSI hosted breakfast seminars throughout the week. Presented by collaborators, these presentations were well-attended and served as a showcase for how Shimadzu instruments are being used by innovators in the mass spectrometer community.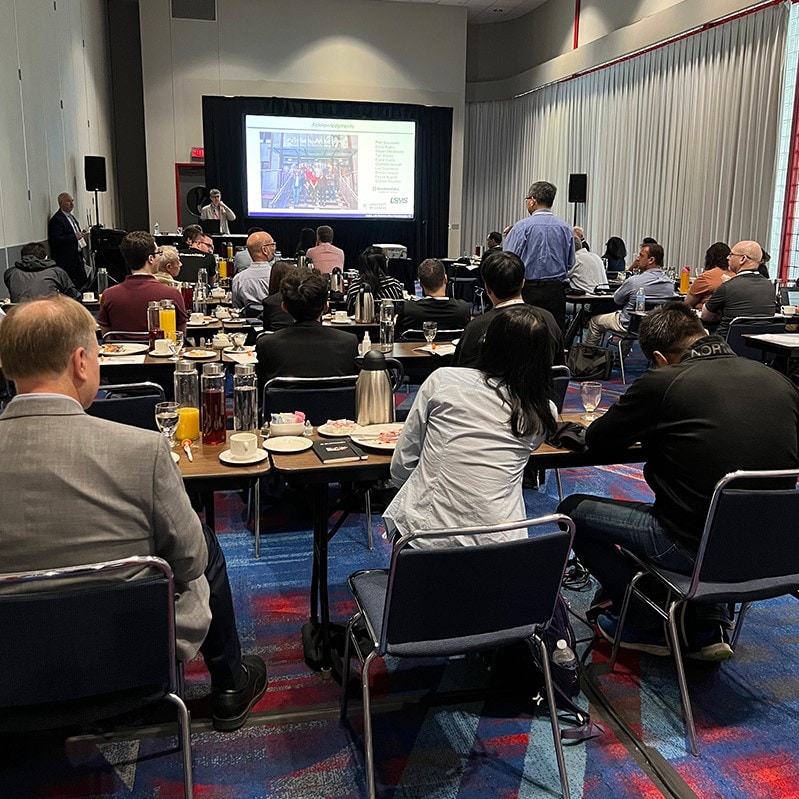 A breakfast seminar
Day
Theme
Monday, June 5
Resource-efficient MALDI MSI
Tuesday, June 6
Setting up a new Mass Spectrometry Core Facility - Establishing workflows for a diverse userbase
Wednesday, June 7
What's in your toolbox?
Add a SPARQ to Your Research!
Thursday, June 8
Liquid Chromatography, Supercritical Fluid Chromatography and Vacuum Differential Mobility Spectrometry - Mass Spectrometry for the Analysis of Complex Samples
ASMS is, at its core, a scientific conference designed to showcase the latest advancements in technology and applications. Shimadzu scientists, as always, contributed significantly to the program with dozens of posters covering a range of markets and applications. We invite you to download many of these posters here.
Analytical Science Email of the Year
Shimadzu's eBook on "Honey Analysis Made Easy" has been selected as the Analytical Science Email of the Year by scientists on SelectScience®.
The eBook featured analytical techniques for a range of honey analyses, such as analysis of water-soluble vitamins and sugar. An employee from SSI received the award at the booth!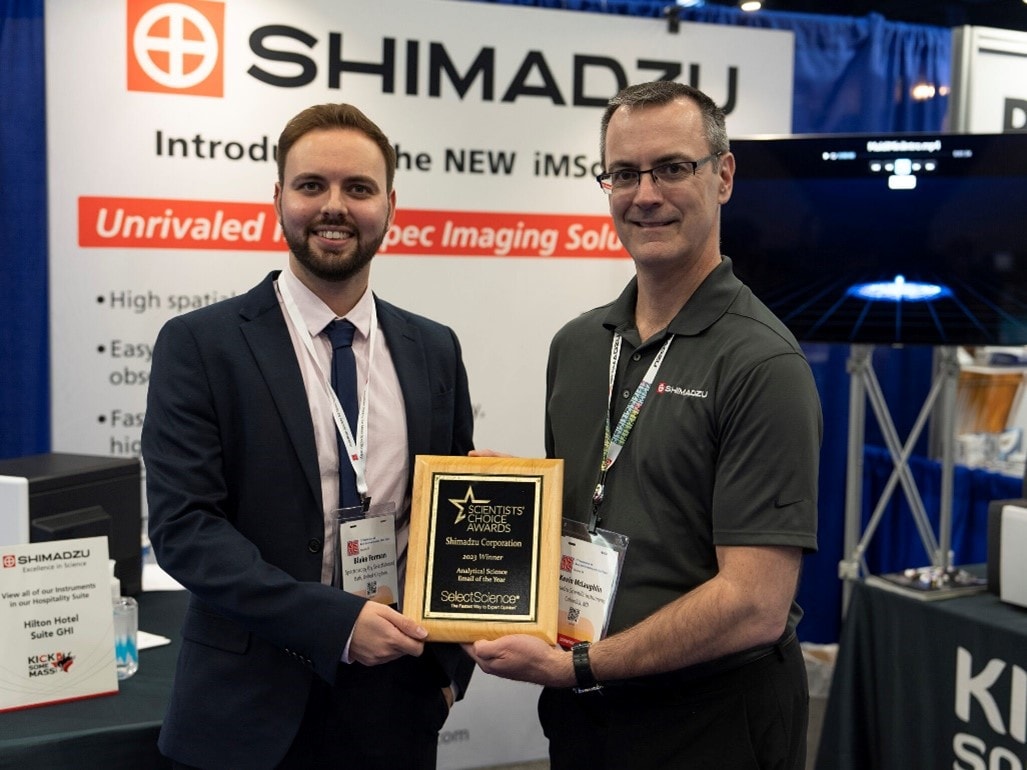 Shimadzu will continue to provide resourceful materials and end-to-end solutions that meet customers' needs. The 72nd ASMS Annual Conference in 2024 will be held from June 2-6 in Anaheim, CA. We look forward to another exciting conference and hope to see you there!
Page Title and URL Copied.