What is Shimadzu Manikin?
The Origin of the Japanese Manikin Industry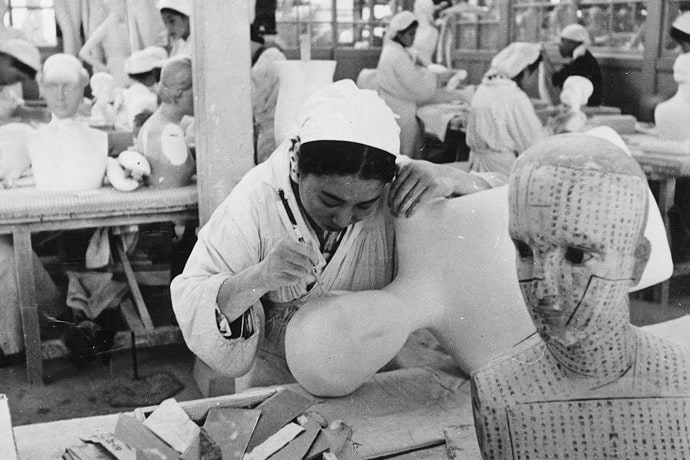 Did you know Shimadzu used to manufacture manikins? In 1937, at the peak of Shimadzu's manikin business, "Shimadzu manikins" accounted for 85 % of all manikins produced in Japan.
The history of manikins in Japan starts with Shimadzu. Why did Shimadzu, which was just getting started manufacturing educational physics and chemistry instruments, also start manufacturing manikins? The answer is rooted in human anatomical models.
Research by Genzo Shimadzu Even Extended to Plants, Animals, Mineral Ores, and Human Anatomy
Shimadzu Corporation was founded in 1875. The story of Shimadzu's history starts with Genzo Shimadzu Sr. manufacturing educational physics and chemistry instruments. As Genzo, who was originally a craftsman of Buddhist altar fittings, began absorbing science knowledge, he began researching plants, animals, minerals, and human anatomy.
Genzo Sr. always stated that the structure of the human anatomy and the ecology of plants and animals cannot be understood by classroom lectures alone in every edition of the "Physics and Chemistry Industrial Arts Journal", he began publishing in 1886.
That spirit of Genzo Sr. was also inherited by his son Genzo Jr.
Establishment of New Specimen Department and Production of Human Anatomical Models
In 1895, the year after founder Genzo Sr. passed away, a new Specimen Department was established. Initially, the department manufactured models of plants and mineral specimens, but then eventually started manufacturing human anatomical models.
Conventional human anatomical models at the time were made of plaster painted with lacquer, which made them difficult to use because of their weight. However, Shimadzu models were made with "Shimadzu fiber," which consisted of paper coated with a polymer resin. Due to their lightweight, good coloration, and water resistance, the process was even granted a patent. Eventually, Shimadzu offered a model that could be disassembled into 138 parts.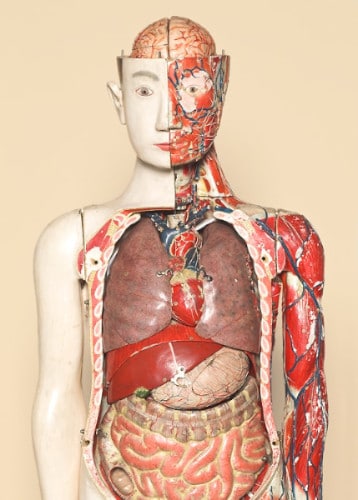 Human Anatomical Model from Shimadzu
From Anatomical Models to Shimadzu Manikins
The Specimen Department grew to be Shimadzu's second-largest department, but became no longer viable as a business due to the Great Depression. Nevertheless, the technology cultivated from making human anatomical models provided the basis for producing manikins starting in 1925.
Manikin production was started in response to the increase in imported manikins fueled by rapidly increasing demand for Western-style clothing at that time. Shimadzu had already been involved in repairing imported manikins, but then decided to start production of manikins at Shimadzu.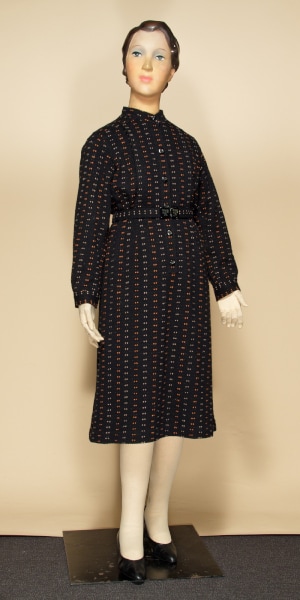 A Shimadzu Manikin
At its Peak, Shimadzu Produced About 5,000 Manikins Per Year
In 1931, the second son of Genzo Shimadzu Jr., Ryozo Shimadzu, became involved in production. Having studied at the Tokyo Fine Arts School (currently Tokyo University of the Arts), Ryozo introduced artistic qualities.
The marketplace began to appreciate Shimadzu manikins for their unique fiber construction technology and anatomical detail developed for anatomical models. Shimadzu established a manikin production operation within Shimadzu's main production plant in 1932. Two years later, the operation was relocated to begin full-scale production.
At its peak, the plant had over 200 employees that produced about 5,000 manikins per year, which established Shimadzu's market dominance by manufacturing over 85 % of the manikins made in Japan.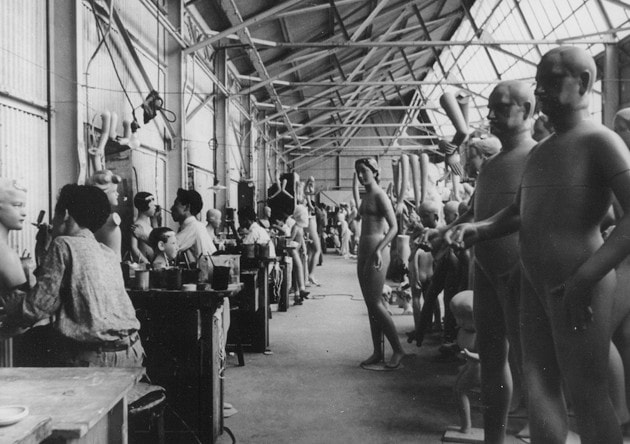 Photograph of Manikin Production Circa 1937
The Manikin Business Succeeded to Other Companies in Kyoto Today
Though Shimadzu was the largest manufacturer of manikins, production and sales were discontinued due to the increased possibility of war.
Shimadzu never resumed the manikin business after the war, but manikin production was carried on by various companies in Kyoto affiliated with the previous business. Thus, the manikin industry in Kyoto, which today is considered the manikin capital of Japan, originated from Shimadzu.
Read more about the history of Human anatomical models and manikins
Page Title and URL Copied.