MALDI-TOF/MS Principle
The prize winning work, matrix assisted laser desorption/Ionization (MALDI), is a method that makes possible the ionization of biological macromolecules such as proteins that are difficult to be ionized because they are easily decomposed (target material is scattered during ionization). Such can now be analyzed thanks to a breakthrough that enables irradiation of a mixture compiled from substances (matrix) that absorb laser beams and the macromolecular sample. Accompanying the above method is time-of-flight mass spectrometer (TOF/MS), which is a form of mass spectrometer that utilizes differences in time of flight due to size differences of ionized substances (proteins, etc).
What is MALDI?
MALDI stands for Matrix Assisted Laser Desorption/Ionization. A MALDI sample is in a state where it is evenly mixed with a mass matrix. The matrix absorbs a nitrogen laser (ultraviolet light, wavelength = 337nm) and converts it into thermal energy. At the same time, a minute amount of the matrix (uppermost surface of the analyte in the diagram) rapidly heats (within several nanoseconds) and vaporizes with the sample.
The Nobel Prize was awarded for the achievement of enabling accurate analysis of large molecular weights, such as biological macromolecules, through the use of a mixture of glycerin and cobalt powder in a matrix. This method has revolutionized development work of new drugs.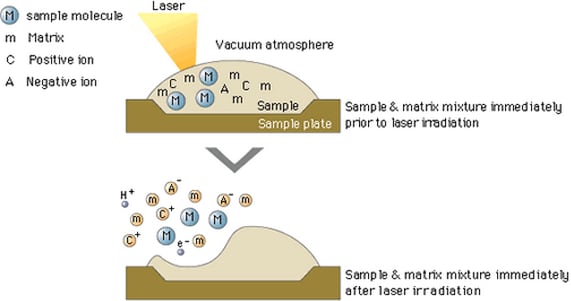 What is TOF/MS?
TOF/MS stands for Time of Flight Mass spectrometer. As depicted in the figure, various- sized positive/negative ions are generated over the sample slide. Ions are extracted in the direction shown in the figure because there is a potential difference Vo between the sample plate and electrode. The speed v of each ion after being extracted is determined using the energy conservation law. Here the potential difference Vo is constant for all ions and the lighter the ion the faster it flies across drift space to arrive at the detector. In this way, varying ion masses that dictate differences in ion flight time, are employed for mass spectrometry, and it is this that is known as Time of Flight Mass spectrometer (TOF/MS).