The analysis of aflatoxin, a natural, highly carcinogenic toxic substance produced by a mold, is extremely important from a food safety viewpoint. This mold grows on crops such as peanuts and corn, raising concerns about its adverse effects on human health.
Aflatoxin is normally analyzed by HPLC or LC/MS, and the following shows an example of analysis by and ultrafast HPLC. Known aflatoxin analogs include G1, G2, B1, and B2, but ultrafast HPLC can complete full analysis in just three minutes.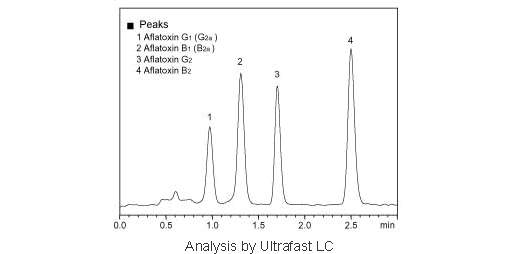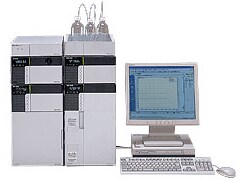 A high-performance liquid chromatograph (HPLC) measures the content of various components in a sample. A liquid medium flows through the HPLC flow channel. When a sample is introduced into the instrument, the components of the sample are separated in a column and the amount of each component is measured by a detector. HPLC can handle a much wider range of target samples and components than GC, including difficult-to-vaporize and heat-sensitive components.