Antimicrobials in Farmed Fish
Malachite green is an organic dye used as a medication (antimicrobial) to treat white-spot disease and tail rot in aquarium fish. Its use is not authorized for farmed fish in Japan. As malachite green is metabolized to leucomalachite green in the fish body, the simultaneous analysis of these two components is required.
Malachite green and leucomalachite green were analyzed by a liquid chromatograph mass spectrometer (LC/MS).

Results
LC/MS could simultaneously analyze 0.8 ppb malachite green and leucomalachite green at high sensitivity.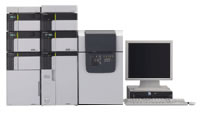 LC/MS is a powerful tool for the simultaneous analysis of multiple components in samples, as it obtains high-sensitivity chromatograms based on MS information, even if the components are not fully separated. The highly reliable LCMS-2020 features enhanced sensitivity, stability, and ease-of-maintenance, and is compatible with ultrafast LC.