Celebrating 50 Years of MS Innovation - User interviews April 2020
On the occasion of Shimadzu's 50th year of producing mass spectrometry instruments, we talk to researchers using Shimadzu MS instruments in their daily work and ask about their expectations for Shimadzu and the future of MS technology.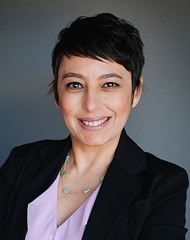 Ruth Gordillo, Ph.D.
Director, Metabolic Phenotyping Core, Touchstone Diabetes Center
University of Texas Southwestern Medical Center
Dallas, Texas, USA.
Main field of study:
LC/MS/MS targeted metabolomics studies on preclinical models of obesity and metabolic disease.
1. How did you become familiar with Shimadzu?
The first triple quadrupole mass spectrometer I used had a Shimadzu liquid chromatograph on the front end. That was the usual set-up in different laboratories in academia and industry where I worked. In 2015, we acquired our first Shimadzu LCMS-8050 ultra-fast-scanning triple quadrupole mass spectrometer. Ever since this instrument came online in our Center, it established itself as the main workhorse for our laboratory, sensitive and robust. Our laboratory has grown substantially in the last few years, and now we are equipped with two additional Shimadzu LCMS-8060 triple quadrupoles, a CLAM-2000 automated sample preparation module coupled to a LCMS-8060, a Shimadzu supercritical fluid chromatograph coupled to an LCMS-8060 and a Shimadzu LCMS-9030 Q-TOF mass spectrometer. Since 2015, our group has been collaborating with Shimadzu Scientific Instruments on numerous research projects involving method development, sample preparation, method validation and therapeutic antibodies analysis.
2. What is your main field of research, and how are you utilizing Shimadzu equipment?
The Touchstone Diabetes Center is devoted to the study of the cells and tissues that are either contributing to or are affected by diabetes and its related diseases. Our Shimadzu instrumentation arsenal is a fundamental tool for our targeted metabolomics studies. We analyzed all kinds of biological fluids and tissues from our mouse models of disease. Our laboratories are also involved in many clinical research studies on diabetes and non-alcoholic fatty liver disease. Shimadzu instrumentation is also used to provide analytical services to the research community as part of the UT Southwestern Metabolic Phenotyping Core.
Our targeted metabolomics analytical portfolio includes phospholipids, sphingolipids, bile acids, free fatty acids and a large panel of water-soluble metabolites such as free amino acids, nucleosides and related compounds, TCA intermediates, etc.
The sensitivity of our instruments allows us to perform metabolite quantitation using a very small amount of biological sample.
3. What are your reasons for choosing Shimadzu equipment?
Shimadzu mass spectrometers have ultra-fast-scanning capability, are very sensitive and very robust. Our instruments run very large batches during several days uninterrupted. I find their liquid chromatograph modular design very advantageous; they are easy to expand or adapt to the laboratory space and more importantly, to evolve according to our growth needs. The modular design is also very convenient for repair purposes.
Last but not least, we are extremely pleased with Shimadzu technical and scientific support. Shimadzu's engineers and technical support specialists are dedicated individuals, very knowledgeable and very passionate about their customers.
4. What trends are you seeing in your field with regards to the use of mass spectrometry?
In my opinion, the mass spectrometry field has plateaued at maximum levels of sensitivity. We are finding very advantageous the use of on-line automated sample preparation robotic systems. It increases reproducibility by eliminating human error and repeated sample transfers as well as improving compound recovery by decreasing non-specific metabolite absorption onto the surface of vial walls and pipette tips. Ready-to-use metabolite packages, including sample preparation protocols and instrumental parameters, are fundamental tools in our laboratories and have shortened tremendously the method implementation timeframe.
Regarding other applications, there is a trend for fabricating very compact instruments and the implementation of fully-automated processes from sample preparation to data processing.
5. What are your expectations for Shimadzu and for MS technology in general in the future?
I think Shimadzu is putting a lot of effort into fully-automated analytical processes with artificial intelligence implementation. In the near future, I envision this workflow to become a reality: minimal human intervention from sample, to results, to statistical data processing. Software design for machine learning solutions has great potential for clinical diagnosis.