Celebrating 50 Years of MS Innovation - User interviews June 2020
On the occasion of Shimadzu's 50th year of producing mass spectrometry instruments, we talk to researchers using Shimadzu MS instruments in their daily work and ask about their expectations for Shimadzu and the future of MS technology.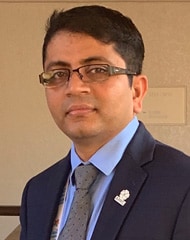 Prabodh Satyal, PhD.
Chief Scientific Officer & Owner, Aromatic Plant Research Center, USA
Main field of study:
Natural Product Chemistry, Essential oils
1. How did you become familiar with Shimadzu?
I have been doing essential oil research since 2004 and I saw many reputable essential oil publications using Shimadzu instruments. I started working in Alchemy Aromatics in 2013 and got to formally start working with the Shimadzu GCMS. They were faster, handy, and easy to operate for essential oil adulteration analysis. I and my partner started our own company in 2017. Since then we have purchased several instruments from Shimadzu, such as LCMS, GC-FID, GCMS, and HPLC units.
2. What is your main field of research, and how are you utilizing Shimadzu equipment?
My laboratory has been mainly focused on researching essential oils and aromatic plants. We look at solvent residue, pesticide residue, and mycotoxins, and carry out potency testing, adulteration testing, and full profiles of natural extracts and essential oils. We are using HPLC for nonvolatile component analysis, GCMS for volatile component analysis, and triple quadrupoles are used for trace components analysis.
3. What are your reasons for choosing Shimadzu equipment?
Besides instrumental capacity, their customer support is great and they do collaborative research with their customers. Shimadzu's software and hardware systems are highly reliable, robust, and easy to operate and maintain. Their instruments are more sensitive than any other. Their instruments are also reasonably affordable.
4. What trends are you seeing in your field with regards to the use of mass spectrometry?
In our field, isotopic ratio mass spectrometry is gaining more attention since the adulteration of natural products is becoming more sophisticated day by day. Automation of essential oil adulteration analysis, and finding a better solution for enantioselective GC-MS, are also important in our natural product authentication field.
5. What are your expectations for Shimadzu and for MS technology in general in the future?
My foremost expectation of Shimadzu is that they enhance software and hardware technology in the future. This is the era of artificial intelligence. If Shimadzu can develop their systems based on AI technology, it would be really appreciated. If Shimadzu can also prepare video tutorials on all of the instruments and method development on their equipment, it would be really helpful to all Shimadzu customers.