Celebrating 50 Years of MS Innovation - User interviews October 2020
On the occasion of Shimadzu's 50th year of producing mass spectrometry instruments, we talk to researchers using Shimadzu MS instruments in their daily work and ask about their expectations for Shimadzu and the future of MS technology.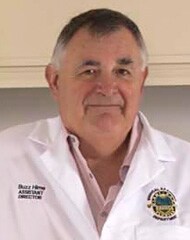 George W. Hime, MS
Assistant Director of Toxicology
Miami-Dade Medical Examiner Dept., Toxicology Laboratory, USA
Main field of study:
Forensic Toxicology, Postmortem Toxicology
1. How did you become familiar with Shimadzu?
Past discussions with engineers and sales representatives as well as customers successfully using the Shimadzu instruments.
2. What is your main field of research, and how are you utilizing Shimadzu equipment?
Postmortem forensic toxicology: we are an active laboratory serving the Medical Examiner in the investigations of deaths. Our interest is in the development of new testing methodology using advanced mass spectrometry techniques. We pursue novel and creative ways to use LC-MS/MS as well as GC/MS and MS/MS to both identify and quantify drugs and other poisons in complex postmortem samples, the goal being to improve qualitative accuracy and certainty to meet the demands.
3. What are your reasons for choosing Shimadzu equipment?
Our laboratory has used most of the major brands of LC and GC mass spectrometers and are always looking for the best quality in instrument performance, innovation, and manufacturer support. We found this to be the case with Shimadzu. There instruments and the company support have met our requirements.
4. What trends are you seeing in your field with regards to the use of mass spectrometry?
The evolution of instrument applications in my field has been slow due to the hesitance to adapt while continuing to meet the productivity demands; LC-MS/MS technology is a case in point. More laboratories are now turning to this technology to identify new emerging psychoactive substances reliably and at low concentrations. In addition, the demands for measuring very low concentrations have made this technology even more applicable. The emergence of these new recreational drugs has sharply increased in the last 10 years. These demands will continue to increase, requiring labs to be innovative and willing to explore new LC-MS/MS technology, including QTOF and similar types, while maintaining the highest forensic standards. Will this advance take the simple and easy approach or the more rigorous and demanding one? Time will tell.
5. What are your expectations for Shimadzu and for MS technology in general in the future?
Innovation for sure. Using good engineering to provide operational stability and long term reliability. Improved software to assist in the collection and analysis of data. Providing a good balance between operational simplicity for technicians and overall instrument control for the scientists wanting to explore and optimize their analysis. More new ideas and adaptations to the technology to improve the data generated and offer more options for the user.