Celebrating 50 Years of MS Innovation - User interviews December 2020
On the occasion of Shimadzu's 50th year of producing mass spectrometry instruments, we talk to researchers using Shimadzu MS instruments in their daily work and ask about their expectations for Shimadzu and the future of MS technology.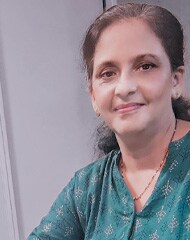 Swati Guttikar
Head, Lab Operations, Bioanalytical Research,
Veeda Clinical Research Pvt Ltd., India
Main field of study:
Bioanalysis
1. How did you become familiar with Shimadzu?
When the LCMS instruments were to be installed in our lab in 2005, Shimadzu HPLCs were evaluated and selected as front-end HPLCs, as they met all our requirements. Since then Shimadzu LC systems have continually been at the forefront of our instrumentation, providing reproducibility, stability and ease of operation. The ultra-high-speed LC improves the speed and reliability of HPLC analysis, offering dramatic improvements in lab productivity.
Later on, in 2012, we evaluated Shimadzu UFMS triple quad technology, and since then we have continuously introduced Shimadzu LCMS for the majority of our bioanalytical business.
2. What is your main field of research, and how are you utilizing Shimadzu equipment?
Our main field of research is bioanalysis where we perform analysis of the human plasma samples generated during clinical studies conducted on healthy volunteers and patients. We are using Shimadzu HPLC and also Shimadzu LC-MS/MS in our lab for qualitative and quantitative analysis of small as well as large molecules.
3. What are your reasons for choosing Shimadzu equipment?
Shimadzu instruments are robust with world class sensitivity and detection speeds. The service is excellent with technical support.
4. What trends are you seeing in your field with regards to the use of mass spectrometry?
Liquid Chromatography Mass Spectrometry (LC-MS) is an exceedingly sensitive and specific analytical technique, at the forefront of quantitative and qualitative analysis, that can precisely determine the identities and concentrations of compounds within the sample. The speed and performance of mass spectrometers have ensured results are the best, making them integral to all research or analytical labs. Mass spectrometers are widely used, whether it be in an analytical testing lab, bioanalytical lab, food testing lab, agro testing lab or labs involved in food research for development of healthier food products. Mass spectrometers in food QC laboratories have gained wide use in verifying nutritional content and label claims. With increasing consumer demand for food products with health and nutritional benefits, it is important to have analytical technologies like mass spectrometry that are selective, sensitive, robust and accessible to support food manufacturers in protecting their brands and regulators to mitigate the risk of food fraud and adulteration.
5. What are your expectations for Shimadzu and for MS technology in general in the future?
Shimadzu has made many advances in Artificial Intelligence and its usage for advancing their instruments. In future it is expected that these instuments should be self-calibrating, self-optimizing, self-sufficient tools that deliver high-quality data to help you tackle the challenges you face during biopharmaceutical development.
We would like to see more robust technologies with intuitive software platforms. Needless to say, further improvement in detection limits are most welcome changes. This would also help us report sensitive quantitation with greater confidence and increase throughput by reducing the need for sample preparation.
The possibility to analyze an intact biologic with the accuracy, precision and sensitivity of a triple quadrupole mass spectrometer is a necessity. The new era in the next decade requires analysis of biologics by high-resolution mass spectrometers, which will eventually become the preferred method of instrumental analysis, and this will require technological improvements of high-resolution mass spectrometers to make them more sensitive, accurate and precise for these intact biologics. Many of these molecules will require custom considerations for their bioanalysis, and LC–MS/MS complementing ligand-binding assays will likely become the gold standard.
The pharmaceutical industry is developing more and more complex molecules with many different modalities. To understand the behavior of these molecules, sensitive in- vivo descriptions of their pharmacokinetics as well as structural characterization of metabolites will be essential. I am hoping to see further improvement in assay efficiency as a result of advancements in automated assay systems and rapid digestion products. These types of advances, focused around sensitivity and resolving power coupled with improvement in chromatographic solutions for large proteins and improved source introduction at low solvent flow rates, will continue to push the analytical boundaries used to support research and innovation for biologic drug development.
The combination of metabolomics and mass spectrometry is of great significance for the discovery and identification of metabolite biomarkers. The future utility of liquid chromatography-mass spectrometry (LC-MS) in metabolic profiling and metabolomic studies for biomarker discovery is a necessity. Current metabolomics and metabolic profiling studies rely almost exclusively on 1H NMR, GC-MS and LC-MS due to the technological maturity of the corresponding instrumentation, the recent independent advancements made in all three fields, and the realization by the instrumentation industry that these three approaches offer the most potential for successful results. These mass spectrometry tools could further improve and develop exploratory research in life sciences.