Column connector (Injection ferrule, interface ferrule, nut)
Last update: May 9, 2022 GMT
Nuts and Ferrules
| Name | P/N | Appearance |
| --- | --- | --- |
| SilTite™ Nut(5 pcs) | 221-75186 | |
| SilTite™ Metal Ferrule(10 pcs) | 221-72563-04 | |
| SilTite™ Metal Ferrule(10 pcs) | 221-72563-05 | |
| SilTite™ Metal Ferrule(10 pcs) | 221-72563-08 | |
| SilTite™ Metal Ferrule(10 pcs) | 221-75200-04 | |
| Nut without slit(10 pcs) | 221-16325-81 | |
| Nut with slit(5 pcs) | 221-32705-84 | |
| SilTite™ Kit(10 pcs ferrules, 2 pcs nuts) | 221-75200 | |
| SilTite™ Kit(10 pcs ferrules, 2 pcs nuts) | 221-75200-01 | |
| SilTite™ Kit(10 pcs ferrules, 2 pcs nuts) | 221-75200-02 | |
| SilTite™ Kit(10 pcs ferrules, 2 pcs nuts) | 221-75200-03 | |
Press-Tight™ Connectors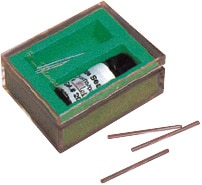 This connector is used to connect capillary columns easily by inserting the columns into the connector from both ends. When the columns are coated with polyimide resin, the connection will remain tight almost permanently and will be completely free of leakage.
Applicable to 0.35 mm to 0.8 mmOD capillary columns.
Name
P/N
Press-Tight™ Connector (5 pcs)

221-38102-91

Press-Tight™ Connector
(5 pcs with 5 g polyimide resin)

221-38102-92
Capillary Tube Cutters
To cut a fused silica capillary tube, score the desired part with the above cutters, which have a ceramic blade, and snap at the position.
The figure on the right shows an easy-to-use pen type. A spare blade is included.
Name
P/N
Appearance
Capillary Tube Ceramic Cutter (3 pcs)

221-75181

Capillary Tube Cutter
(pen type with 1pc spare blade)

221-50595-91