Electronic Qualification Service
Easy for Customers to Check Qualification in Advance
Shimadzu's electronic qualification documentation service provides an equipment qualification plan (EQP) that allows confirming the overall content of qualification work before starting each installation, inspection, repair, or other qualification process performed by field engineers. This EQP consists of equipment information that corresponds to the system used to perform the qualification, including an overview of inspection parameters and procedures, setting values, and control criteria, all of which are presented in a summary table, making it easy to check the details of items inspected.
All qualification documents can be saved as PDF files. In addition to manually signing printed documents, signatures can be added electronically using Adobe Acrobat™ functionality.
 
Provides Summary Report of IQ/OQ Inspection Results

Customers are provided with a summarized report of installation information recorded for IQ, such as the serial numbers and model names of instruments included, as well as setting values, control criteria, and pass/fail results for each OQ inspection items. This report helps to ensure that customers can confirm inspection results and regulatory agency can audit smoothly.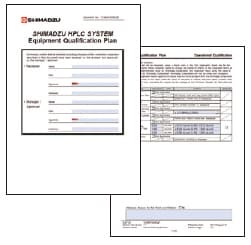 Customized Qualification Inspection Parameters

Shimadzu's new qualification service (E-format) enables customers to review the content of operational qualification (OQ) inspection items provided by Shimadzu, as required through preliminary confirmation using an EQP document. This allows customers to assess the feasibility of the inspections and change setting values and criteria. Specialized software automatically transfers this information from EQP documents to documents used to record inspection results. This allows field engineers to perform qualification processes based on newly specified information.
This page may contain references to services that are not available in your country. Please contact us to check the availability of these services in your country.