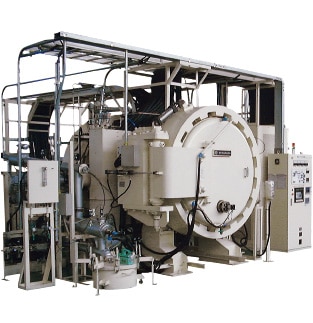 Features
Energy Efficient
Internal seal design reduces both heat loss and power required to maintain temperature.
Performs Degassing, Dewaxing, Sintering and S-HIP Processes (6 MPa·G) in Sequence
Uses internal tight box to discharge binder vapors and prevent them from adhering to or contaminating furnace walls or the heat-insulating layer.
Temperature Distribution
Use of a heat-insulating layer provides stable temperature distributions throughout furnace in both vacuum and pressurized conditions.
Temperature Control
Cascade control is used to keep temperatures close to the temperature of the object being treated. (Standard Equipment)
Cooling
A cooling fan and internal cooler are used to reduce cooling time.
Applications
Superhard Alloys
Performs dewaxing, degassing, sintering, and S-HIP in sequence
Non-Oxide Ceramics
Performs dewaxing, degassing, sintering, and S-HIP in sequence
Metals
Performs dewaxing, degassing, sintering, and S-HIP in sequence
HHS Series Specifications
Model
HHSgr50/50/125
Effective Intern. Dim. (mm)
W x H x D
500x500x1250
Max. Temp. (°C)
1600
Process. Cap. (kg gross)
800
Ultimate Press. (Pa)
7×10-1
Max. Pressure
6MPa
Power Req. (kVA)
370
Gases
N2,Ar,(H2)