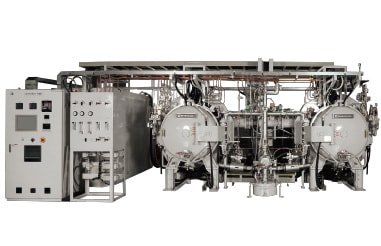 Features
Improved Temperature Increase Delay
• Better than previous single-control systems, temperature is maintained closer to the temperature of the item being treated.
• Eliminates need for offset between control temperature and temperature of item being treated. Applications
Applications
Tight Box Internal Temperature Control
Tight box internal temperature data is fed back to master adjustment gauge controler.

Master adjustment gauge controler corrects for differences between actual and setting temperatures.

Master sends correction signal to slave and slave sets temperature to corrected value.

Temperature data for outside tight box (heater zone) is fed back to slave adjustment gauge controler.

Correction signal for difference between temperature outside tight box and slave setting value is output to each thyristor.