SBEL-LL(SBJ-FL) series gear pumps are designed for use with extruders. In plastic film and sheeting manufacturing, it is important to control extruder unit pressure fluctuations and prevent temperatures from increasing. As a result, SBEL-LL(SBJ-FL) series pumps are used to improve the quality of extruded products.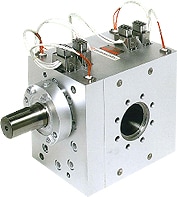 Features
Small pressure pulses.

Since friction losses are minimal, heating of polymer is minimized.

Can be used in situations where suction pressure is higher than discharge pressure.

Shaft seals use a polymer seal (labyrinth seal) that minimizes leakage and contains no wearing parts.

Heating is via an easy-to-operate cartridge heater that does not need to be removed, even for maintenance, thereby minimizing heater damage.
Application
Either of the following series of pumps can be selected, according to the application.
SBEL-LL Series: General-purpose plastics, etc.
SBJ-FL Series: Optical polymers, optical films, etc.
Specifications
| | |
| --- | --- |
| Discharge Pressure | Max. 35 MPaG (350 kgf/cm2G) |
| Suction Pressure | Max. 10 MPaG (100 kgf/cm2G) |
| Differential Pressure | Max. 25MPaG (250 kgf/cm2G) |
| Viscosity: | 100 to 5,000 Pas (1,000 to 200,000 poise) |
| Temperature: | Max. 350°C |
| Heated by | Electric heater, Jacket |
Gear Pumps for Extruders
Pump Model
Suction/Discharge Port
Inner Dia.(mm)
Pump Model
Suction/Discharge Port
Inner Dia.(mm)
SBEL50LL-103
40
SBJ12FL-103
20
SBEL100LL-103
50
SBJ25FL-103
30
SBEL160LL-103
60
SBJ50FL-103
40
SBEL240LL-103
80
SBJ100FL-103
55
SBEL315LL-103
80
SBJ160FL-103
65
SBEL400LL-103
90
SBJ240FL-103
80
SBEL560LL-103
100
SBJ315FL-103
80
SBEL800LL-103
100
SBJ400FL-103
80
SBEL1000LL-103
100
SBJ560FL-103
90
SBEL1600LL-103
120