Shimadzu SK series pumps are exceptionally efficient compact, chemical industry pumps that are designed based on Shimadzu's extensive experience and advanced technical expertise. These pumps are ideal for process solutions, polymers, and other solutions under extreme conditions. SK series pumps can pump a wide range of liquids, from low viscosity to high, under high vacuum pressures, high temperatures, or other conditions.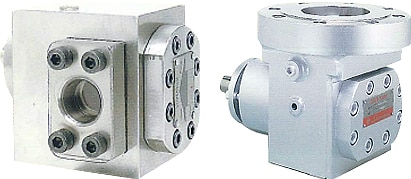 Features
Stainless steel construction is highly resistant to corrosion.

Precise tolerances/clearances ensure excellent repeatability of liquid volumes.

SK and SKJ models share the same sized gear, bearing, and shaft seal parts - only the bodies are different.
SKJV models have a large diameter suction port for pumping high-viscosity liquids.

SKJ and SKJV models have heated jacket for heating using steam or oil.
Applications
Ethylene glycol, silicone oil, varnish, glycerol, paraffin, oil-based ink, polymer, resin, wax, Epoxy resin, Polypropylene, polyurethane, spandex, polyimide, additives, various polymer testing equipment, etc.
MODEL

1.Pump Name
SK: SK series, without jacket
SKJ: SKJ series, with jacket
SKJV: SKJV series, with jacket
2.Capacity
1: 1 cm3/rev
12: 12 cm3/rev
12: 12 cm3/rev
3: 3 cm3/rev
25: 25 cm3/rev
25: 25 cm3/rev
5: 4.7 cm3/rev 50: 50 cm3/rev
50: 50 cm3/rev
100: 100 cm3/rev
3.Shaft Seal Types
1: Single Type Carbon/Ceramic, 2: Double Type Ceramic G: Gland Packing
4.Gear
1:SUS440OC 2:SACM645 3: Alloy tool steel
5.Bearings
1: SUS440OCStainless steel
2: SACM645 Alloy steel(nitride) 3: Alloy tool steel
Shaft Seals
Select the type of seal that best suits your needs from 3 kinds of shaft seals - single mechanical seals, double mechanical seals or gland packing seals. If needed, shaft seals can be easily changed to another type simply by replacing only the necessary shaft seal parts. Shimadzu's units are designed so that liquid leaking into the shaft seal chamber through gaps between parts is returned to the suction side of the pump. Also, pressure in the shaft seal chamber is almost equal to pump inlet pressure.
Single (Internal) Mechanical Seals
The feed liquid itself lubricates rotating parts and prevents external leakage.
Seal Heat Resistance: Max. 320°C

Allowable Inlet Pressure: 0 to 1.5 MPaG
This type of seal is standard equipment.
Double Mechanical Seals
These seal the feed liquid penetrating into the shaft's seal chamber and also prevent any external leakage of sealing liquid used to lubricate the seal's rotating parts. These seals are used in the following cases.
When air inclusion is not allowed, due to abstraction from the vacuum container.

In locations where external leakage is not allowed due to flammability or toxicity.

With liquids that solidify easily (due to temperature, air or chemical reactions.)
When using a double mechanical seal, sealing liquid is sealed in the shaft-seal chamber.
However, a seal pot is required.
Seal Heat Resistance: Max. 320°C

Allowable Inlet Pressure: 0 to 1.5 MPaG
Gland Packing Seals
These seals are used for special liquids, such as high-viscosity liquids, where a mechanical seal cannot be used.
Seal Heat Resistance: Max. 320°C

Allowable Inlet Pressure: 0 to 1.5 MPaG