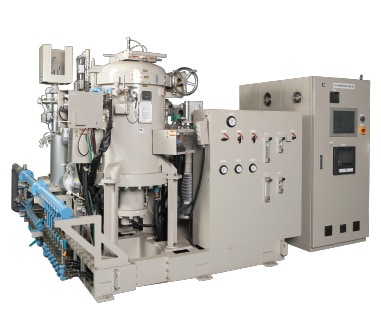 Features
Multiple Uses
A wide range of pressures can be specified for sintering processes, from vacuum pressures (10-2 Pa) to high pressures (0.9 MPa). Furnace can be heated as high as 2200 °C, making it ideal for production or research of various metals and ceramics. In addition, a combined pressurized gas/internal cooling system provides rapid cooling.
Performs Degassing, Dewaxing and Sintering (Pressure Sintering) in Sequence
Uses internal tight box to discharge binder vapors and prevent them from adhering to or contaminating furnace walls or the heat-insulating layer.
Maintenance
Internal parts can be disassembled or reassembled easily, ensuring an easy-to-maintain system.
Applications
Superhard Alloys
Performs dewaxing, degassing, sintering, and rapid cooling in sequence
Non-Oxide Ceramics
Performs dewaxing, degassing, firing, and rapid cooling in sequence
Metals
Performs dewaxing, degassing, sintering, and rapid cooling in sequence
Sm-Co, Nd-Fe and Other Magnets
Improves magnetic characteristics
High-Speed Tool Steel
Performs rapid heating, quenching, and tempering in sequence
Brazing of Metals and Ceramics
Performs degassing and brazing in sequence
PVSG Series Specifications
Model
PVSGgr20/20
Effective Intern. Dim. (mm)
W x H x D
200×200
Max. Temp. (°C)
2200
Process. Cap. (kg gross)
10
Ultimate Press. (Pa)
7×10-4
Max. Pressure
0.9MPa
Power Req. (kVA)
40
Gases
N2,Ar,(H2)