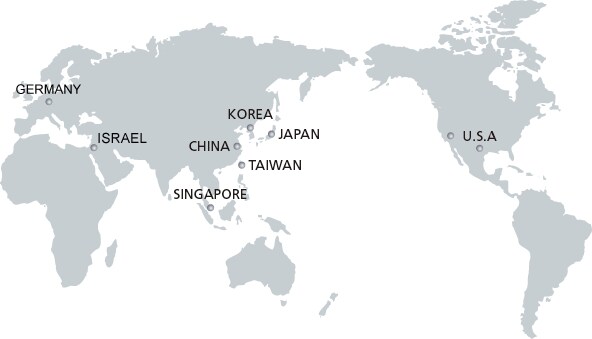 JAPAN
SHIMADZU CORPORATION. International Marketing Division
3, Kanda-Nishikicho 1-chome, Chiyoda-ku, Tokyo 101-8448, Japan
Phone : 81 (3) 3219-5641
Fax : 81 (3) 3219-5710
KOREA
SHIMADZU KOREA VACUUM EQUIPMENT CO., LTD.
9, Deokseongsandan 1-ro, Idong-eup, Cheoin-gu, Yongin-si, Gyeonggi-do, 17130 Korea
Phone : 82(31)283-0242
Fax : 82(31)333-8857
E-mail : tmp@skve.co.kr
TAIWAN
SHIMADZU TAIWAN INDUSTRIAL MACHINERY CO., LTD.
3F, No.122-7, Zhonghua Rd., Hukou Township, Hsinchu County 303035, Taiwan (R.O.C.)
Phone : 886-3-5986008
Fax : 886-3-5986006
CHINA
SHIMADZU (CHINA) CO., LTD. SHANGHAI BRANCH
(OFFICE)
Block E, No.570 West Huaihal Road, Shanghai, 200052
PHONE:86-21-2201-3816
FAX:86-21-2201-3800
Shimadzu Vacuum Equipment(Shanghai)Co.,Ltd
(SHANGHAI SERVICE CENTER)
West of 3rd Floor, Building D, No.2059 Du Hui Road, Minhang District, Shanghai 201108 P.R.China
PHONE:86-21-5296-7532
FAX:86-21-5296-7532
Xian Shimadzu Vacuum Equipment Co.,Ltd
(XIAN SERVICE CENTER)
18 Building 2c Hi-tech Enterprises Accelerator Park, No.2 Qinling West Road, Xi'an Caotang S&T Industrial Base of Xi'an Hi-tech Zone XI'AN 710304 P.R.China
PHONE : 86-29-8902ー5998
FAX : 86-29-8902-5995
SINGAPORE
SHIMADZU (ASIA PACIFIC) Pte. Ltd.
79 Science Park Drive, #02-01/08, Cintech IV Singapore Science Park 1, Singapore 118264
Phone : 65-6778-6280
Fax : 65-6779-2935
U.S.A
SHIMADZU Industrial Equipment USA
2340-C Walsh Avenue, Santa Clara, CA95051, U.S.A.
Phone : 1(408)566-0960
Fax : 1(408)566-0961
E-mail : tmp@spi-inc.com
GERMANY
infraserv Vakuumservice GmbH
Gleiwitzerstrase 8, 85386 Eching, Germany
PHONE : 49(89)319 01 03
RUSSIA
CRYOSYSTEMS INCORPORATED
Nagorny Pr.7 117105, Moscow
PHONE : 7-495-543-7360
FAX : 7-495-543-7361
32 Shaham St., Amargad House, Kiryat Matalon, Petah-Tikva, Israel
PHONE:972-3-9232202
FAX:972-3-9229750