Enquiries received by the TMP Group, Quality Assurance Department are handled via our rapid response service network.
To allow our overseas customers to use these products with complete confidence, turbo molecular pump service sites have been established at the below to handle pump maintenance and supply backup units.

You can also use our contact form.
Service Network
The TMP Group, Quality Assurance Department accepts on a 24-hours basis to allow customers in industries operating day and night to use Shimadzu turbo molecular pumps with complete confidence.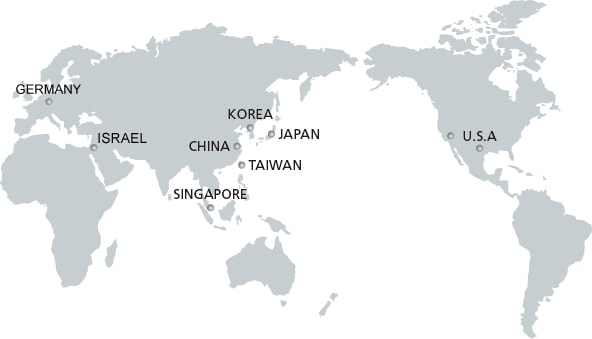 KOREA
SHIMADZU KOREA VACUUM EQUIPMENT CO.,LTD.
9, Deokseongsandan 1-ro, Idong-eup, Cheoin-gu, Yongin-si, Gyeonggi-do, 17130 Korea
PHONE : 82-31-283-0242
FAX : 82-31-333-8857
TAIWAN
SHIMADZU TAIWAN INDUSTRIAL MACHINERY CO.,LTD.
3F, No.122-7, Zhonghua Rd., Hukou Township, Hsinchu County 303035, Taiwan (R.O.C.)
PHONE : 886-3-5986008
FAX : 886-3-5986006
CHINA
SHIMADZU (CHINA) CO., LTD. SHANGHAI BRANCH
(OFFICE)
Block E, No.570 West Huaihal Road, Shanghai, 200052
PHONE:86-21-2201-3816
FAX:86-21-2201-3800
Shimadzu Vacuum Equipment(Shanghai)Co.,Ltd
(SHANGHAI SERVICE CENTER)
West of 3rd Floor, Building D, No.2059 Du Hui Road, Minhang District, Shanghai 201108 P.R.China
PHONE:86-21-5296-7532
FAX:86-21-5296-7532
Xian Shimadzu Vacuum Equipment Co.,Ltd
(XIAN SERVICE CENTER)
18 Building 2c Hi-tech Enterprises Accelerator Park, No.2 Qinling West Road, Xi'an Caotang S&T Industrial Base of Xi'an Hi-tech Zone XI'AN 710304 P.R.China
PHONE : 86-29-8902ー5998
FAX : 86-29-8902-5995
SINGAPORE
SHIMADZU ASIA PACIFIC PTE. LTD
79 Science Park Drive, #02-01/08, Cintech IV Singapore Science Park 1, Singapore 118264
PHONE : 65-6778-6280
FAX : 65-6779-2935
U.S.A
Shimadzu Industrial Equipment USA
SANTA CLARA OFFICE
2340-C Walsh Avenue, Santa Clala, CA95051,U.S.A.
PHONE : 1-408-566-0960
FAX : 1-408-566-0961
AUSTIN SUPPORT CENTER
9210 Cameron Road, Suite 900, Austin, TX78754
PHONE : 1-512-339-6007
FAX : 1-512-339-6202
GERMANY
infraserv Vakuumservice GmbH
Gleiwitzerstrase 8, 85386 Eching, Germany
PHONE : 49(89)319 01 03
RUSSIA
CRYOSYSTEMS INCORPORATED
Nagorny Pr.7 117105, Moscow
PHONE : 7-495-543-7360
FAX : 7-495-543-7361
32 Shaham St., Amargad House, Kiryat Matalon, Petah-Tikva, Israel
PHONE : 972-3-9232202
FAX : 972-3-9229750