August 30, 2021

| News & Notices Shimadzu Releases the SyncTraX™ (SMART version), Radiation Therapy Support System for Cancer
System Determines Irradiation Positioning Accurately and in Short Time Even during Treatment, which Reduces Total Treatment Time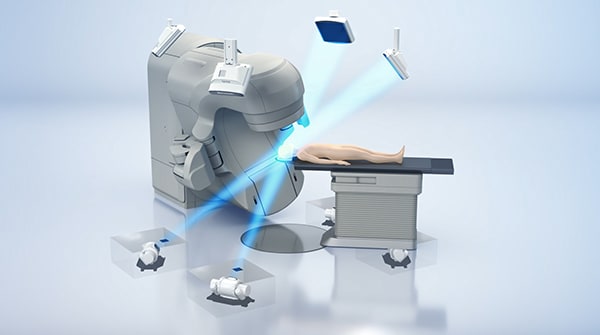 Four sets of X-ray tubes (on the floor) and FPDs (on the ceiling) of SyncTraXTM (SMART version) are installed. around the therapeutic equipment in the center.
On August 30, Shimadzu releases the SyncTraXTM (SMART version) radiation therapy support system in Japan. This system is used in combination with a therapeutic equipment. By using this system in combination with radiation therapy equipment, the positioning of the patient's treatment area can be performed in a short time and with high accuracy even during treatment, leading to a reduction in total treatment time.
In radiation therapy, cancer cells are killed by irradiating them with high energy X-rays. Accordingly, it is important to irradiate the cancer cells accurately with X-rays, minimizing the impact on normal cells. This system performs radiography of the patient on the bed (couch) immediately before radiotherapy starts. The positional offset of the treatment region is calculated by comparing the bone enhanced image information with the CT images for the therapeutic planning taken in advance. This offset information is conveyed to the therapeutic equipment to correct (guide) the position of the couch to help ensure that the high energy X-rays generated by the therapeutic equipment accurately irradiate cancer cells.
At present, approximately 1000 therapeutic equipment are in operation in Japan (2019 statistics from the Ministry of Health, Labour and Welfare), and approximately 40 % of cancer patients receive this treatment. In particular, Image Guided Radio Therapy (IGRT) using a support system such as this system can efficiently deliver highly accurate X-rays, enabling high energy X-rays to be delivered, reducing the treatment time and number of irradiations. This in turn reduces the burden on the patient while improving the therapeutic throughput for medical facilities.
This system can also be upgraded to perform real time tumor tracking*, contributing to heightening the accuracy and efficiency of radiation therapy with this new lineup.
* Function to support pinpoint irradiation of therapeutic regions even when the internal organs are in motion due to respiration.
Features of the New System
1. Capable of Positioning Easily Even during Treatment
Thanks to four sets of X-ray tubes and flat panel detectors (FPD), radiography can always be performed from two directions regardless of the gantry angle of the therapeutic equipment, thereby enabling accurate positioning. This allows for correction in a short time not only before treatment begins, but also during treatment.
2. Capable of Rapid Positioning
After taking X-rays in two directions, the system automatically calculates and displays the amount of correction for the couch position in a short time by comparing it with the CT image for treatment planning. After checking the images, position corrections can be performed by transmitting the amount of correction to the therapeutic equipment.
3. Positioning is Easy Regardless of the Orientation of the Couch
Radiation therapy also includes the treatment method in which irradiation is performed at an arbitrary angle with respect to the axes of the body (non-coplanar radiation). In this case, the orientation of the couch can be changed as needed. If positioning of the patient is required during therapy, radiography is performed in a short time to enable corrections of the positioning. There is no need to return the therapeutic equipment's gantry and the couch to their initial positions.
4. Excellent Positioning Performance Thanks to FPDs with a Wide Field of View
A large 12-inch FPD is used as the X-ray detector, which enables the acquisition of a wide range of information such as bone as an index for positioning, thereby improving accuracy in treatment.
5. Real-Time Tumor Tracking Functions can be Optionally Added
In order to provide radiation therapy to internal organs in motion due to respiration, a real-time tumor tracking function supporting pinpoint irradiation of tumors is optionally available.
Model Name
SyncTraX™, a Radiation Therapy Support System for Cancer
Configuration
Four sets of X-ray tubes and FPDs, a high voltage X-ray unit, an operational console, and other peripheral equipment
*This system can only be combined with the TrueBeam™ radiotherapy system from Varian.