July 29, 2022

| News & Notices
Establishment of New Technology Study Group for Art in the IoT Era
Tokyo University of the Arts
Shimadzu Corporation
Mitsubishi Chemical Group Corporation
Tokyo University of the Arts Center of Innovation(Tokyo University of the Arts COI Organization; Headquarters: Taito-ku, Tokyo; PL: Project Professor Masaaki Miyasako; project executive: Project Professor Junji Ito), Shimadzu Corporation (Shimadzu; Head office: Kyoto City, Kyoto; President: Yasunori Yamamoto) and Mitsubishi Chemical Group Corporation (MCG; Head office: Chiyoda-ku, Tokyo; President: Jean-Marc Gilson) today announce that they have established the New Technology Study Group for Art in the IoT Era (the Study Group). The Study Group will work on the development of technical human resources through programs that incorporate STEAM education.*1
In the future, Tokyo University of the Arts COI Organization will plan programs in which artists in various fields, such as musicians, serve as lecturers and will provide the programs to young engineers and researchers at MCG and Shimadzu. By learning from lecturers and discussions among participants, engineers and researchers of both companies will build "integrated knowledge" that combines the humanities and natural sciences.
MCG and City Smart Vision group of Tokyo University of the Arts COI Organization (Group Leader: Project Professor Junji Ito, former Cultural diplomacy and art business group) have been collaborating on the planning and implementation of training programs for employees that combine art and technology since 2019. Through the collaborative effort, development of a new violin bow using a carbon fiber composite material and other projects have begun.
Shimadzu has recently joined the collaboration, which led to the establishment of the Study Group. In addition to using Shimadzu's analytical measurement technology, the Study Group will provide programs five times in FY2022 in which a total of 200 young engineers and researchers are expected to participate to elucidate various artistic issues from a scientific point of view. At the first meeting of the Study Group held on July 28, Ms. Ruriko Tsuchida, the director of Toyama Glass Art Museum, was invited to give a lecture on the art of glass and new materials.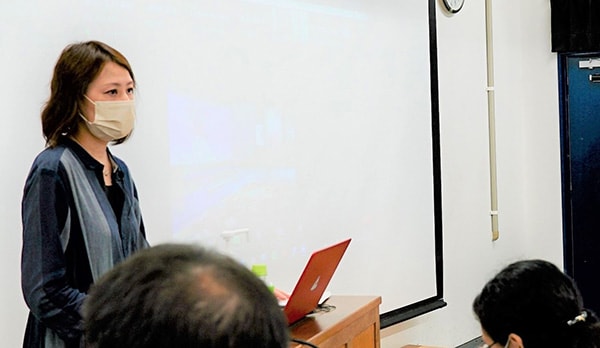 Lecture held on July 28 at the Ueno Campus of Tokyo University of the Arts
In recent years, the social environment and people's values and lifestyles have diversified, making it difficult for companies to independently create high-value-added products and services. Through the activities of the Study Group, MCG and Shimadzu will learn "creativity to make something from scratch," "sensitivity to social change" and "techniques that inspire customers and society" from art, and use this knowledge to plan new businesses and train human resources who can develop innovative products and services. Tokyo University of the Arts COI Organization will pursue the possibilities of "art as a social foundation" and "art as employee training that builds creativity" by cooperating with the employee training of the two companies. The Study Group will work on the development of technical human resources with "integrated knowledge" to create new art and technology by fusing these two fields.
*1. STEAM education is an educational method for integrated learning of Science, Technology, Engineering, Arts, and Mathematics.
Related Links
Tokyo University of the Arts Center of Innovation Press Release
Mitsubishi Chemical Group Corporation Press Release
Contact
Tokyo University of the Arts Center of Innovation,
City Smart Vision group
+81-50-5525-2403
Shimadzu Corporation
Corporate Communication Department,
Public Relations Group,
pr@group.shimadzu.co.jp
Mitsubishi Chemical Group Corporation
Corporate Communications Division
Media Relations Department
+81-3-6748-7140