August 31, 2023

| News & Notices

The World's First Automated Extraction and Recovery Process for Microplastics Analysis


Release of the MAP-100 Automatic Microplastics Pretreatment Unit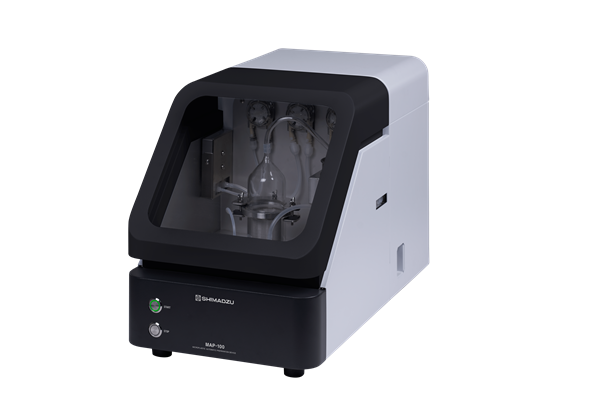 Photo: MAP-100 Automatic Microplastics Pretreatment Unit
Shimadzu Corporation announces the release of the MAP-100 automatic microplastics pretreatment unit. This product is the first in the world to automate the process of extracting and collecting microplastics in oceans, rivers, lakes, and other water in the environment. Before instrumental microplastic analysis, it is essential to remove contaminants and substances that adhere to surfaces. Replacing the troublesome, mainly manual process of pretreatment with a specialized unit increases operational efficiency, improves the quality of preprocessing results, ensures stable reproducibility, and results in safer handling of samples
Microplastics are shards of plastics less than 5 mm in size. They accumulate in the internal organs of organisms that ingest them, so there are concerns about their impact on human health as well as the entire ecosystem. Assessing their actual distribution requires measurements by various analytical instruments. Pretreatment is necessary to remove any substances adhering to the microplastics prior to analysis. The pretreatment of microplastics includes acid treatment, where vegetation, microorganisms, and other organic substances are dissolved, and density separation, where the microplastics are separated from sand, clay, and other inorganic substances. When done manually, these processes are cumbersome and often result in variations in process efficiency and quality. The MAP-100 automates both processes, as well as the collection of the particles in the sample, resulting in a more efficient, safer experience for analysts. This product is mentioned in the "Instruments Considered for the Creation of Standard Specifications," an appendix to the "River and Lake Microplastics Investigative Guidelines" published in March 2023 by the Japanese Ministry of the Environment.
Shimadzu sells a number of instruments that can be used for microplastics analysis, including Fourier transform infrared spectrophotometers to determine the type of plastic and particle imaging systems to measure the number and shapes of plastics. Completely automating pretreatment, which is the gateway to microplastics analysis, will contribute to multifaceted environmental surveys and research.
Features
1. Replaces Troublesome Manual Work with a Specialized Unit
The pretreatment process for microplastic analysis is time consuming and collecting the particles after treatment using tweezers is difficult. This product controls the flow line automatically and collects all the tiny microplastic particles. This not only eliminates dependency on individual skills and heightens the reliability of the analysis, but also eliminates manual labor involving acidic reagents, thereby ensuring safety.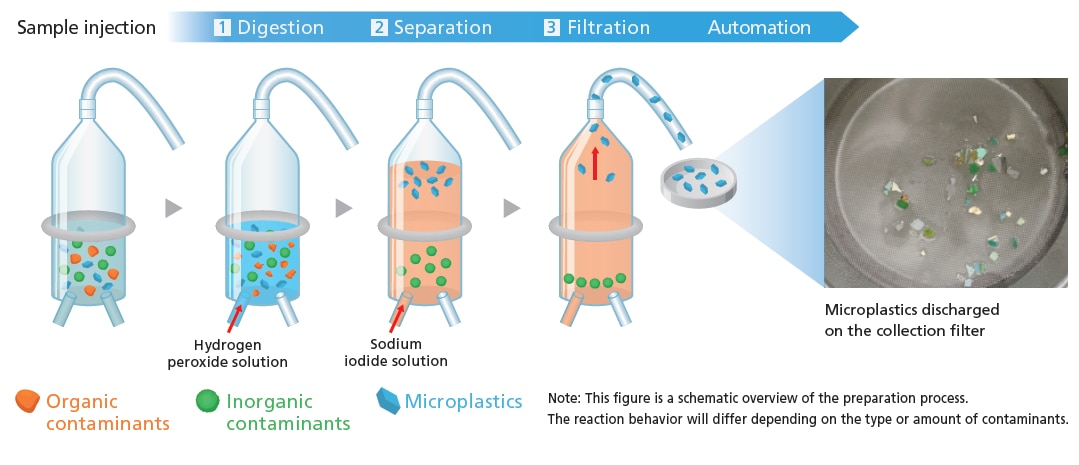 2.Compatibility with Guidelines from the Japanese Ministry of the Environment
Pretreatment by this product is compliant with the "River and Lake Microplastics Investigative Guidelines" published by the Japanese Ministry of the Environment. Automating the pretreatment process for a standard microplastics analysis contributes to the assessment of the actual distribution of these microplastics.
3.Simple, Intuitive Software
The processing time and conditions must be adjusted according to the amount and condition of substances adhering to the sample. The control software for this product consists of simple, easy-to-operate windows, enabling easy configuration of conditions. In addition, the processing status and finishing time can be checked on screen, improving the efficiency of the user's workflow.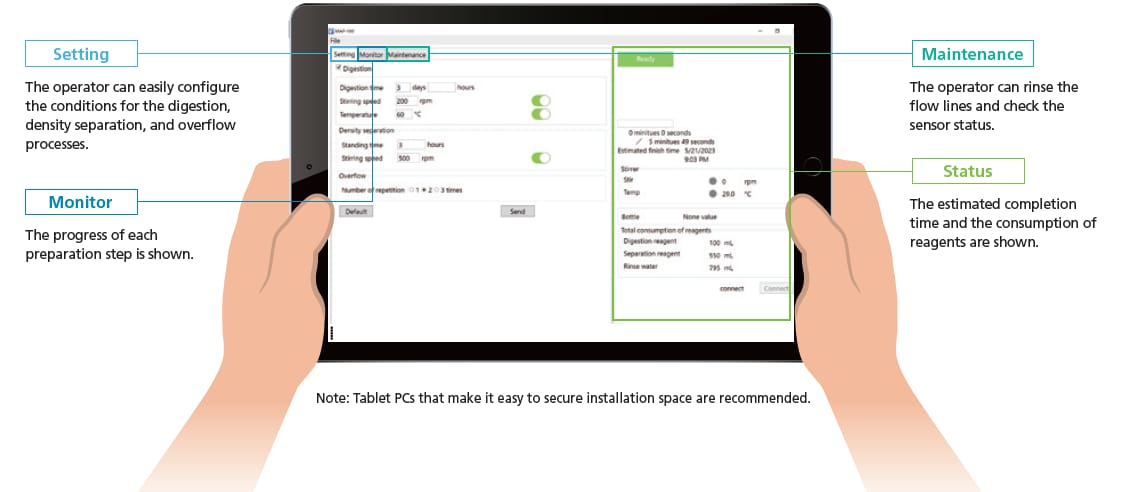 For more details, visit
MAP-100