June 29, 2023

| News & Notices Start of a Revolutionary Packaging Project in the Shimadzu Group to Contribute to the Environment
Shimadzu Logistics Service Corporation Acquires El-design Co., Ltd.
In June, Shimadzu Corporation began a "Revolutionary Packaging Project" to improve the design of packaging for products. This project will revise the packaging materials and specifications used for products handled by the Shimadzu Group, leading to reduced environmental load and logistics costs. At the end of March, Shimadzu Logistics Service Corporation (hereinafter SLS), which handles logistics functions for the Shimadzu Group, acquired El-design Co., Ltd. (hereinafter ELD), which has high level packaging design technology. Shimadzu will promote the Revolutionary Packaging Project company-wide including the development departments and environment departments, mainly led by SLS and ELD.
The amount of waste will be reduced by changing from conventional wood and plastic packaging materials to recyclable cardboard boxes. Additionally, reducing the volume after packaging will improve the loading efficiency for the Shimadzu Group as a whole, leading to reductions in transport fees and packaging fees both in Japan and overseas. Through these series of measures, cost reductions of approximately 100 million yen per year are expected. Shimadzu is aiming to achieve the carbon-free society as noted in our medium-term management plan, and the Revolutionary Packaging Project, an initiative of the Group, will be one aspect of this.
SLS and ELD Packaging Design Examples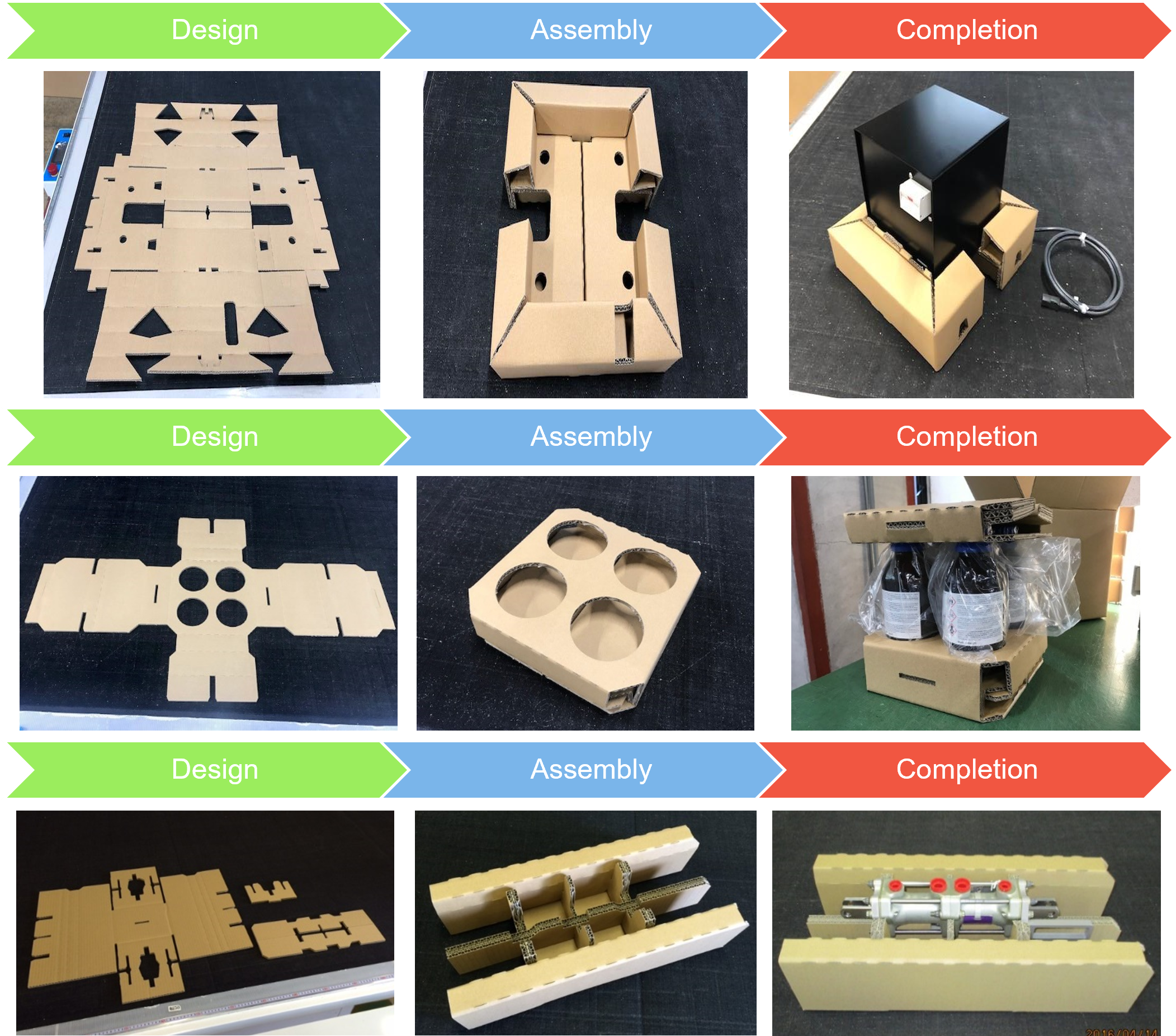 Reductions in waste and costs are achieved by changing plastic product guards to cardboard boxes.
Overview of El-design Co., Ltd.
| | | |
| --- | --- | --- |
| Name | : | El-design Co., Ltd |
| Representative | : | Katsumi Nagano (President, Shimadzu Logistics Service Corporation) |
| Address | : | 2-30 Nishichujo-cho, Ibaraki-shi, Osaka, Japan |
| Capital | : | 14.48 million yen |
| Employees | : | 10 |
| Established | : | August 24, 1999 |