October 17, 2023

| News & Notices Efficiently Acquiring Measurement Result without Urine Collection
Shimadzu Launches the "Urina" Integrated Management Type Urine Volume Measurement System

Integrated Management Type System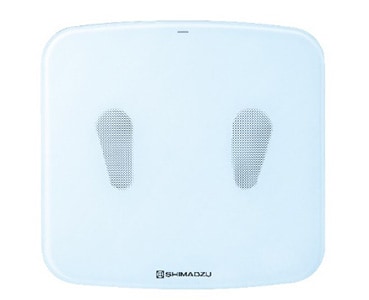 "Urina" Urine Volume Meter
Shimadzu Corporation launched the "Urina" integrated management type urine volume measurement system on October 17. Urina is a medical device that accurately measures urine volume based on the difference in body weight before and after urination, eliminating the need for urine collection. The newly released integrated management type enables integrated management of patient urine volume information from the nurses' station, thereby reducing the risk of infection and improving operational efficiency in healthcare facilities.
Urology, gastroenterology, cardiology, internal medicine, obstetrics, gynecology, and other departments, urine from some inpatients is collected in containers to measure urine output. In doing so, there is a concern about the risk of infection resulting from urine spattering or container washing. In addition, if the containers are disposable, the complexity of disposal as infectious waste and the cost of consumables are also an issue. Urina precisely measures urine volume based on slight changes in a patient's weight before and after urination. Thus, urine collection is no longer necessary, reducing container cleaning operations and costs.
In July 2021, Shimadzu launched the Urina individual management type urine volume measurement system. In the individual management model, each patient operated a dedicated mobile terminal. On the other hand, in the integrated management model, multiple patients share a single terminal by authenticating the barcode on a wristband with registered patient information. Because there is no need to prepare a terminal for each patient, it is suitable for facilities with a large number of patients for urine volume measurement. It also has a function to automatically record and tally the time and volume of urination, and centrally manage them from a management terminal at the nurses' station, reducing the burden not only on the patient but also on the healthcare professionals.
The Urina integrated management type urine volume measurement system consists of a urine volume meter (controlled medical device class I), a management terminal, and a patient terminal. Shimadzu has been a pioneer in the manufacture and sale of analytical balances since 1918. The technology Shimadzu has developed over the years to achieve fast and stable weighing is also applied to Urina.
In developing the prototype of this system, we collaborated with Professor Momokazu Gotoh of the Department of Urology, Nagoya University Graduate School of Medicine (now Chukyo Hospital), and Professor Tamami Taniguchi (Head of the School of Nursing) of the University of Yamanashi Graduate School of Medical and Nursing Sciences, Faculty of Medicine. Please refer to the following papers for relevant research results regarding this system.
Shun Takai, Yoshihisa Matsukawa, Nobuya Hashizume, Momokazu Gotoh.
A small pilot study to evaluate the accuracy and feasibility of a novel automated voiding diary device for recording urine output measurements. Neurourol Urodyn. 2021; 40(1): 272-277
Chika Monzai, Kayo Kubokawa, Yu Irikura, Kuniko Yoshimi, Shuichi Inomata, Toru Mizumoto, Tamami Taniguchi
Comparison of the utility of current and new automatic urine volume measurement devices.
Journal of the Japanese Society of Wound, Ostomy and Continence Management. 2022; 26(4): 347-354
Tamami Taniguchi, Kayo Kubokawa, Chika Monzai, Yu Irikura, Osamu Inoue, Kuniko Yoshimi, Toru Mizumoto, Shuichi Inomata, Masayuki Takeda, Takahiko Mitsui.
Evaluation of patients' feelings about current and new automatic urine volume measurement systems
The Journal of Japanese Continence Society. 2022; 32(2): 460-464

Features
1. Centralized Management of Urinary Records
The new terminal will allow measurement and tabulation methods to be set either collectively or on a patient-by-patient basis. In addition, the measurement status of the target patient can be checked at once.
2. Reduced Infection Risk
Using analytical balance technology developed over many years, the volume of urine is precisely measured from slight changes in the patient's weight before and after urination. This eliminates the need for urine collection and reduces the risk of infection caused by urine spattering or container washing.
3. Reduced Burden on Healthcare Professionals and Patients
The system reduces tasks associated with urine collection, such as container washing or disposal as infectious waste. Measurements are recorded automatically, eliminating the need for paper output or manual recording of urine volume by patients or healthcare professionals.
(Reference: Launched in July 2021)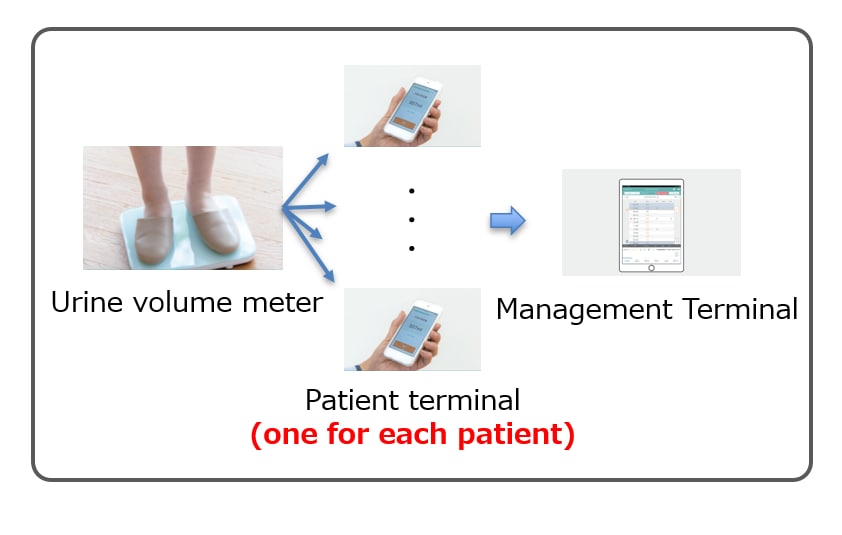 Individual Management Type System