June 13, 2023

| News & Notices
Selected as an iSTOXX MUTB Japan Platinum Career 150 Index
Shimadzu Corporation has been selected for the iSTOXX MUTB Japan Platinum Carrier 150 Index, which consists of companies in Japan that are active in building careers for their employees. The index was jointly developed by Mitsubishi UFJ Trust and Banking Corporation and STOXX, an index provider affiliated with the Deutsche Börse Group. The index uses the evaluation items of Platinum Career companies in Toyo Keizai Inc.'s CSR survey data. The index recognizes 150 Japanese companies that actively contribute to employee career development by evaluating three aspects: long term view, active learning and social contribution. "Platinum Career" refers to a career that develops and builds skills through autonomous learning and experience regardless of age.
Long term view:Establishing systems and environments to provide employees with various ways of working.
Active learning:Development of support systems for obtaining various qualifications and career development.
Social contribution:Systems to support individual employee volunteer activities and participation in various social activities as a company.
Shimadzu's medium-term management plan calls for "Leadership & Diversity," which aims to create human resources who lead innovation to solve social issues with diverse partners. Our company supports the growth of each employee by providing them with educational opportunities and diverse programs.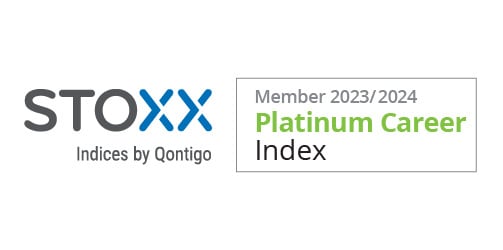 Related Documents
iSTOXX MUTB Japan Platinum Career 150 Index