September 4, 2023

| News & Notices Providing both Productivity Improvements and Space Savings
Release of the Brevis GC-2050 Gas Chromatograph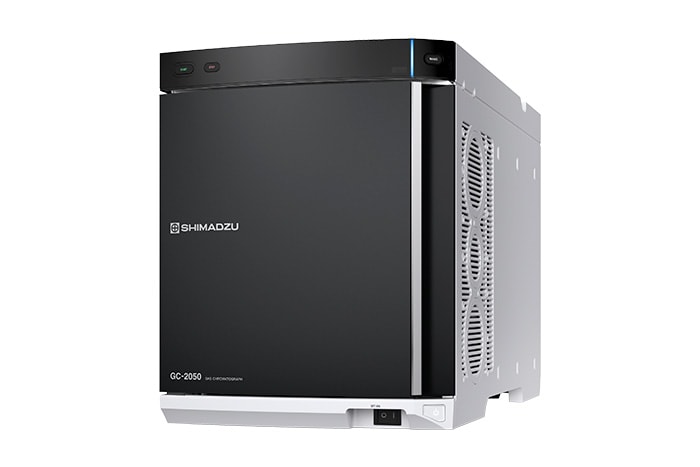 Product Photo: Brevis GC-2050 Gas Chromatograph
Shimadzu Corporation will release the Brevis GC-2050 gas chromatograph. This instrument provides both productivity improvements and space savings while maintaining a high level of basic functionality and expandability of optional products. While inheriting the basic functionality of the Nexis GC-2030, our top of the line model released in 2017, this model is approximately 35 % narrower.
A gas chromatograph (GC) is an analytical instrument widely used in petrochemistry, as well as food products, the environment, pharmaceuticals, and other fields in quality control departments and research & development departments. In recent years, they have been in high demand of GC as evaluation and measurement systems for the new technologies. This includes the development of new energies with the aim of realizing a carbon neutral. Additionally, in quality control departments, where conventionally GC systems are often used, there is a need to install more instruments through the effective utilization of laboratory space, and to perform efficient analyses regardless of the expertise of the operator. The new Brevis GC-2050 is designed with these needs in mind.
In the Shimadzu medium-term management plan, which began in FY 2023, five types of instruments including GC are prioritized in our business activities. The others are liquid chromatographs, mass spectrometers, testing machines, and turbomolecular pumps. In future, GC should play an active role in the green transformation (GX) market through biofuels, next-generation alternative fuels, the environment, and the regulatory sector. In releasing the new Brevis GC-2050, Shimadzu aims to be a "company that offers end-to-end solutions," delivering the data required by customers.
Note: Brevis is a Latin word meaning "slim" and "compact."
Features
1. Utilization of Laboratory Environments where Space is Limited
In quality control departments, multiple GC systems are used in accordance with the types of analysis targets and the analysis items. Additionally, a number of instruments other than GC are also installed, so compact size is a requirement. This product achieves a space saving width of just 350 mm, even when connected to an automatic sample injection unit (autosampler). It is 35 % narrower in comparison to the width of the existing Nexis GC-2030. Additionally, despite its compact size, it can double productivity by simultaneously analyzing samples on two analytical lines. This system is the world's narrowest system that can analyze two concurrent analyses.
2. Remote Display Function and Clean Pilot Function are Easy Even for Beginners
This instrument is equipped with a remote display function, so analysis operations and instrument status checks, which were conventionally performed at the instrument, can now be performed from a handy tablet or a PC. Maintenance videos and FAQs are also provided, ensuring accurate maintenance even by beginners. Further, it is equipped with a clean pilot function, which performs automatic conditioning before startup. Stable instrument status is automatically configured, so stable analysis results can be obtained by users with any level of experience.
3. Convenient Gas Selector for Improved Productivity
This instrument reduces power loss by making it smaller. It reduces power consumption by about 30% compared to general GC systems. The cost of helium gas, which is generally used with GC, has skyrocketed. Accordingly, the need has heightened to reduce the amount of helium gas used and to use alternative gases for analysis. By attaching the optionally available gas selector, even beginners can easily use a different gas without replacing the gas cylinder connected. Additionally, when little gas remains, the gas cylinder is automatically switched, preventing work stoppages due to insufficient gas.
For more details, visit
Brevis GC-2050