April 12, 2023

| News & Notices Opening of the New Shimadzu Logistics Center Kyoto
Aiming to Expand Production Capabilities and Logistical Efficiency
Shimadzu Corporation has opened Shimadzu Logistics Center Kyoto, a new logistics center in Landport Kyoto Minami, a high-functionality logistics facility in Muko City, Kyoto Prefecture. Shimadzu signed a lease agreement with Nomura Real Estate Development Co., Ltd., which manages this facility, and will begin operations on April 11.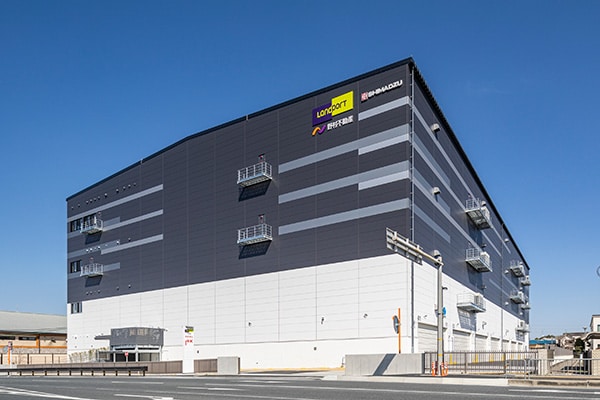 Shimadzu Logistics Center Kyoto
At present, Shimadzu produces liquid chromatograph mass spectrometers and their other main products at the Head Office plant in Kyoto. The parts and materials needed to assemble analytical and measuring instruments will be stored at this new logistics center. Moving the parts and materials stored at the Head Office plant to the new logistics center will expand the production space, expanding the models produced and furthering automation. Additionally, warehouses at 11 locations within and outside the company will be consolidated to the new logistics center and two in-house warehouses, optimizing employee allocation and reducing the cost of transportation between centers. At 30 minutes by car from Head Office and 15 minutes from the Kyoto Minami Interchange, Shimadzu Logistics Center Kyoto is highly accessible, heightening delivery efficiency.
In future, there are plans to install robots to pick up items, as the high ceiling height at the new logistics center makes it easy to introduce automation equipment. Warehouse consolidation and the automation of tasks within warehouses will reduce logistics related expenses, with improved profitability equivalent to 240 million yen per year anticipated. Opening of the new logistics center is part of strengthening manufacturing business continuity management (BCM) and manufacturing digital transformation as noted in the new medium-term management plan. The aim is for an environmentally friendly logistics center, with a solar power generation system installed as a feature of the Landport series, and a reduction in the number of transport vehicles due to warehouse consolidation. Through utilization of Shimadzu Logistics Center Kyoto, Shimadzu is constructing a more efficient manufacturing system, leading to the stable provision of products.
Overview of Shimadzu Logistics Center Kyoto
Name
:
Shimadzu Logistics Center Kyoto
Leasing from
:
Nomura Real Estate Development Co., Ltd.
Address
:
5 Nishikanamura, Kaidecho, Muko City, Kyoto Prefecture
Building specifications
:
Total floor area of 22,761.82 m2
(leased area of 22,709 m2 )over 4 floors above ground