October 23, 2023

| News & Notices Automatic Universal Testing System for Measuring Metal Materials Released in China
Collaborative Development with a Local Startup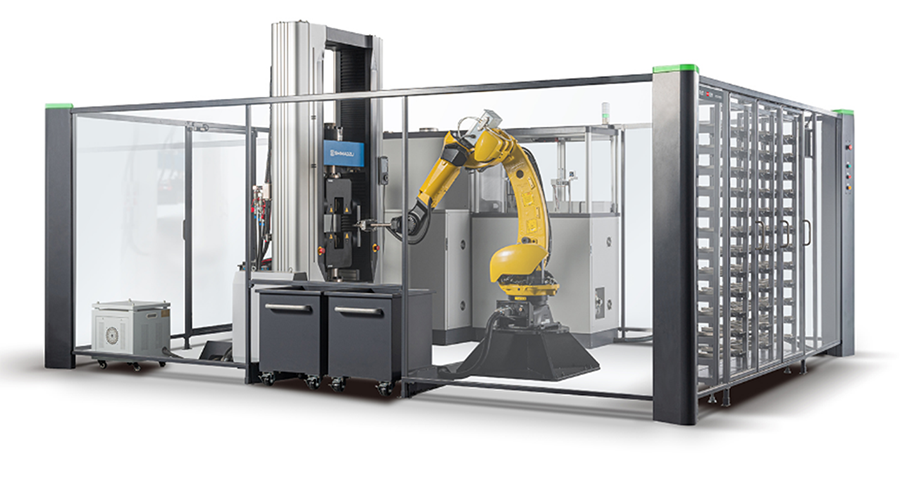 Depiction of the Installation of the SAGX-V Series Automatic Universal Testing System
Shimadzu Corporation has released an automatic universal testing system in China for measurements of metal materials. This system completely automates strength testing including Shimadzu universal testing machines. It was developed in collaboration with Shishi (Shanghai) Automation Technology Co., Ltd. (Shanghai), a startup in the field of robotics. In future, the system will be sold all over China to manufacturers of automobiles, parts, and iron & steel primarily as a measurement application for metal materials.
Universal testing machines are used in strength tests that measure the strength of materials and the changes when a force is applied. Electric vehicles (EV), as well as environmentally friendly new materials, and newly structured parts and products are on the rise, and the demand for strength tests continues to increase. In China, a bottleneck on EV production lines is the manual process of swapping the samples to be measured. From a safety perspective as well, it would be preferable to reduce and automate such processes.
In addition to the main testing unit, the automatic universal testing system consists of a robot, sample size measurement laser, and special software. The SAGX-V series and the SAGX-V Plus series are available. The former is compatible with one testing machine unit per robot, while the latter is compatible with two testing machine units per robot. They are compatible with the Shimadzu Autograph AGX-V2 series of precision universal testing machines.
Features
1. Automatic Continuous Operation in Combination with the Robot
The robot takes out the sample, and the sample's size (width and thickness) is measured by the laser. The size data is transmitted to the software, so manual entry is not required. After the size is measured, the robot positions the sample in the testing machine, and a tensile test is performed. The tensile test and the measurement of the size of the next sample are implemented in parallel, so test data can be acquired efficiently when performing measurements consecutively. A total of 108 samples can be stocked in the sample holder, and the samples in the sample holder can be exchanged as needed even during measurement, so unlimited continuous automated operation is achieved.
2. The Simple Software can be Used Even by Inexperienced Users
The software is equipped with an automatic data transfer function, enabling the test conditions to be assessed in real time in the control window. The analysis and aggregation of the test results are simple to perform even for inexperienced users.
3. Compatible with Traceability Functionality
With strength tests, integrated management of test data and high reliability are required. The test data from the automatic universal testing system is automatically stored on the data server. The details of the data analysis and the usage logs are stored, which can prevent data tampering and deliberate changes.