November 30, 2020

| News & Notices Decreasing the Workload of Medical Professionals and Increasing the Productivity with Advanced Power Assist Technology
Release of RADspeed Pro style edition featuring GLIDE Technology™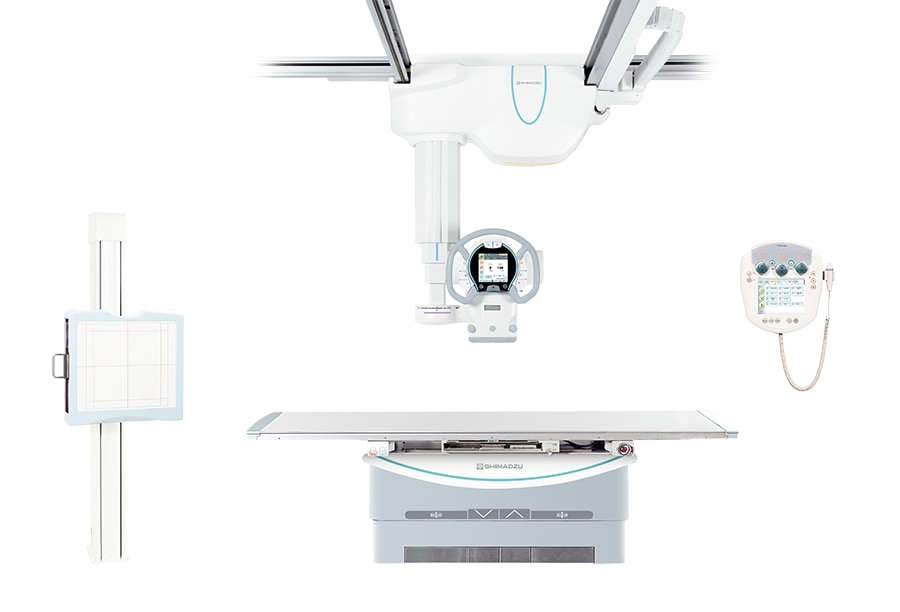 Kyoto Japan, November 30, 2020, Shimadzu Corporation announced the global sales release(*1) of a new general radiography solution, RADspeed Pro style edition with GLIDE Technology™.
It is a brand-new power assist technology developed for our high-end general radiography systems to operate the system much more smoothly and comfortably then improve radiographic examination environments at healthcare facilities worldwide.
In general radiography, the radiological technologist must operate approximately 300 kg X-ray tube support assembly that is suspended from ceiling rails to position it for the target exposure area. As the general radiography is the first choice for diagnostic imaging involving many disorders in the head, chest, abdomen, the extremities and other areas, it is used for an extremely large number of examinations performed on daily basis.
Operating the X-ray tube support involves moving the assembly along ceiling rails and upon the balancing mechanism, but due to the operator's risk of shoulder or lower back pain, there is a need to reduce the burden on operators. Reducing operating loads and enabling a smoother workflow would also shorten the time that patients have to maintain a particular body position during examinations.
The newly developed power assist technology reflects Shimadzu's extensive technology and experience cultivated over many years. The technology was named POWER GLIDE™* based on an image of a glider, as it makes the X-ray tube positioning extremely light and smooth just like gliding in air.
The forces applied to the handle during operation vary from person to person. The amount of power assist that each operator feels is optimal for operations, such as for large movements or for detailed positioning adjustments, differs as well. Furthermore, general radiography examinations require fine operability, such as for positioning the X-ray exposure area to within a few millimeters by operating the X-ray tube support assembly from a position a long distance away from the exposure area, even 180 cm in some cases.
To satisfy those high level operability requirements, POWER GLIDE™ power assist technology instantaneously senses the amount of force applied by a operator during each operation, calculates the amount of assist-force required, and activates the motors accordingly to provide optimal operating assistance smoothly in realtime. This extremely high responsiveness of the POWER GLIDE™ ensures the system can be comfortably and quickly positioned as intended in any situation. For example, previous systems required an operator force of 3 kgf or more to initiate X-ray tube support movement, but the POWER GLIDE™ system requires only 1 kgf or less and allows to operate easily even with a single hand.
Shimadzu has remained committed to developing innovative technologies that minimize radiation dose, improve image quality, and ensure excellent operability, in order to supply diagnostic imaging systems for supporting those working at the front lines of healthcare throughout the world. This new product can help increase the productivity of busy healthcare operations and improve the working environment of medical professionals, whether at small clinics or large hospitals, while maintaining the cumulative excellences offered by previous models.
The new product is now being unveiled in the online Radiological Society of North America (RSNA) exhibition from November 29 to December 5 (local time).
* POWER GLIDE
POWER GLIDE is an advanced power assist technology that involves sensing technology, shock reduction technology, balance technology, stability control technology, and torque control technology to enable effortless manual operability of equipment that weighs around 300kg. In addition to POWER GLIDE technology, Shimadzu also offers GLIDE VIEW™ technology in mobile X-ray systems and GLIDE ASSIST™ technology in patient-side R/F systems. Collectively, Shimadzu has named them GLIDE Technologies™.
Features
1. Three Assist-Level Settings Available
The assist-level can be selected among three levels(low/mid/high) on the X-ray tube support touch panel. That ensures smooth operability by switching to a lower assist level for fine positioning or to a higher assist level for performing large X-ray tube support movements quickly. Systems also include convenient functionality that makes fine positioning easier by automatically reducing the assist level whenever LED lamps are illuminated to show the X-ray exposure field for fine positioning of the exposure area.
2. Configuring Systems with Optional Functionality as Required
The newly developed POWER GLIDE™ technology is available as optional functionality. An extensive selection of various optional functionalities is also available, such as Auto-positioning functionality that can automatically move the X-ray tube support to registered positions, Tomosynthesis functionality that can generate multi-slice images, or Speed-stich functionality to generate long-view images for full spine or full leg examinations. These flexible system configurations and options are available to meet the specific needs of individual healthcare facilities and increase the productivity of your room further.
3. Excellent Compatibility and Operability with Various DR Systems