December 8, 2021

| News & Notices Shimadzu Receives First Award for Fragrance Oil and Diffuser Set Derived from Shimadzu Environmental Activities and Created Using Traditional Kyoto Craft Arts
- Red Dot Award: Brands & Communication Design 2021 -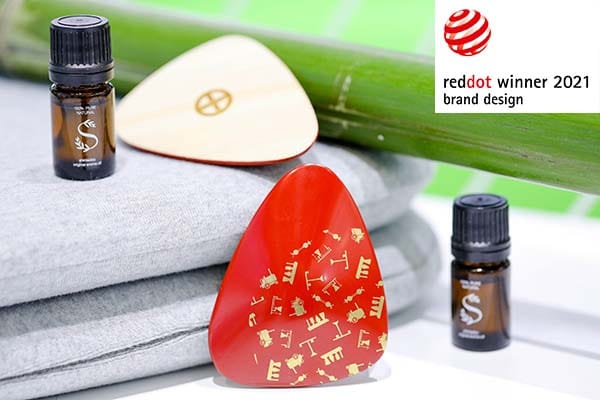 As part of activities for contributing to the region and conserving biodiversity, Shimadzu participates in the Kyoto Prefecture Model Forest Movement and is involved in cultivating the approximately 52-hectare Shimadzu Corporation Forest in Nantan City, Kyoto Prefecture.
A fragrance oil and diffuser set made with materials obtained from Shimadzu's forest thinning activities recently was awarded a Red Dot Design Award 2021 in the Brands and Communication Design category, which is an international design award issued in Germany. It marks the first time Shimadzu has received an award in that category.
Fragrance oil is prepared by distilling natural essential oils from tree trunks, branches, and leaves and then adding 24 natural ingredients, such as rosemary. The diffuser was created at a traditional lacquerware artisan workshop in Kyoto by applying lacquer to materials generated from thinning hinoki cypress. The fragrance oil and diffuser set were prepared as gifts. In addition, the fragrance oil is used at the Head Office entrance for receiving guests.
The Red Dot Design Award is an international award sponsored by Design Zentrum Nordrhein Westfalen, a design center in Nordrhein Westfalen, Germany, since 1954. Advertisements, videos, packaging, installations, and other communication designs are selected by international design experts based on criteria such as innovativeness, benefit to society, and sustainability.
For more information about Shimadzu's award, visit the following Red Dot Design Award 2021 website .