October 23, 2020

| News & Notices
Shimadzu Enters the Field of On-Line TOC Analyzers for Pure Water with the Mercury-Free TOC-1000e, the First Analyzer in the New eTOC Series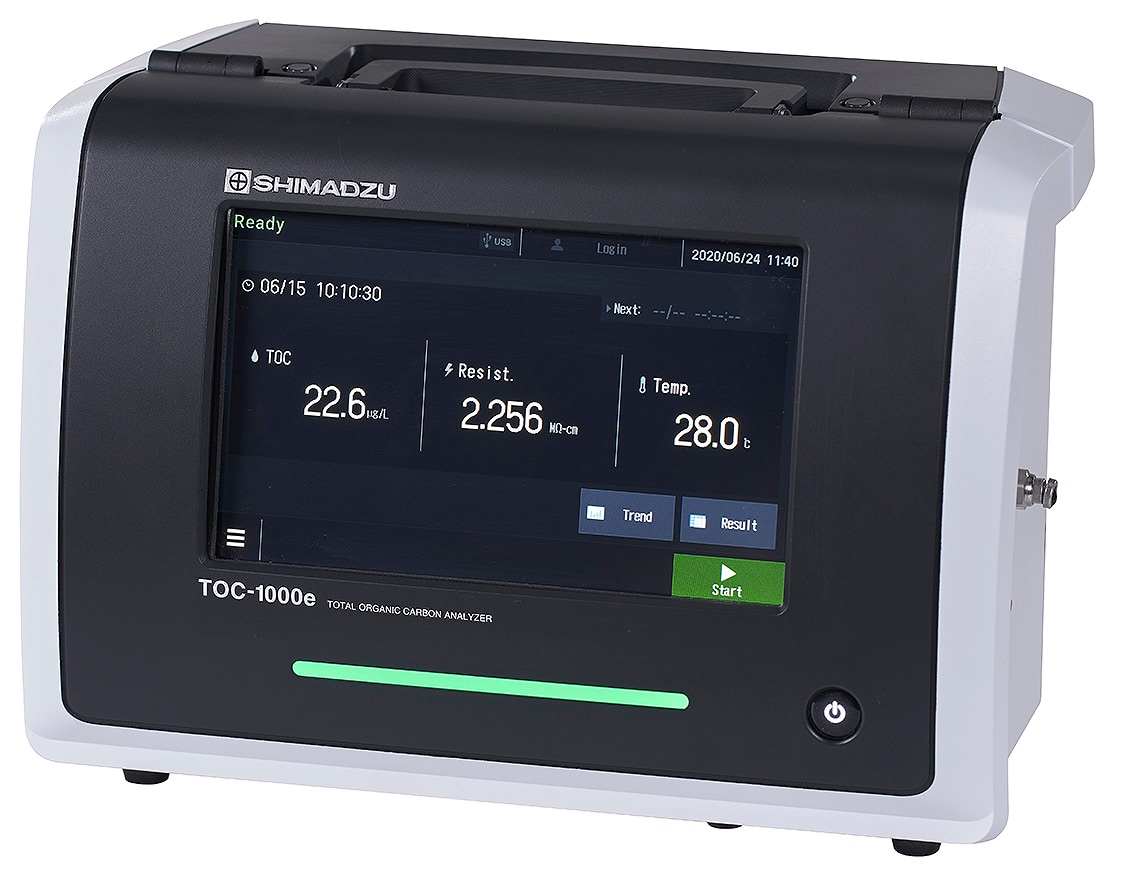 TOC-1000e, the First in the eTOC Series of TOC Analyzers
Shimadzu announces the release of the TOC-1000e, the first analyzer in the eTOC Series of on-line TOC analyzers designed for pure water applications, a first for Shimadzu.* Miniaturization, high sensitivity, and a mercury-free design are the basic features of the eTOC series. The TOC-1000e, the first analyzer in this series, has the world's smallest and lightest cabinet, yet provides high sensitivity with a detection limit of 0.1 μg/L, making it ideal for fields requiring high-purity water, including pharmaceuticals, semiconductors, food & beverages, chemistry, and precision equipment.
Total organic carbon (TOC) analyzers measure organic substances in water in terms of the total amount of organic carbon. They are utilized for water quality control and environmental investigations. Shimadzu TOC analyzers are well-suited to laboratories and on-line measurements of environmental and waste water, and hold the biggest share of the global market. The eTOC series will be our first on-line TOC analyzers especially designed for pure water measurements.
General TOC analyzers for pure water utilize mercury lamps as the light source within the instrument. In consideration of the environment, the eTOC series will be the first analyzer in the world to use an excimer lamp rather than a mercury lamp. In addition, "Active-Path," a new design in which the sample flow channel is integrated with the light source, minimizes sample residue in the flow channel, so high sensitivity is maintained during long-term use. This new design also contributes to making these instruments small and light.
* Applications of TOC analyzers are divided into laboratory use, in which samples are loaded into a sampler in a laboratory, and on-line use, for continuous monitoring of waste water and environmental water.
Features
1. Combines the World's Smallest and Lightest Cabinet with a Large Panel Display
In addition to providing high sensitivity with a detection limit of 0.1 μg/L, the world's smallest and lightest cabinet is equipped with the industry's biggest color touch panel, simplifying operations and making measurement values easy to read. In addition, the new design minimizes sample residue in the flow channel, ensuring high sensitivity is maintained.
2. Highly Efficient and Easy to Use
The eTOC series has a simple design and parts do not need to be replaced for one year. The periodic replacement parts (excimer lamp and pump head) can be removed and attached without tools. Using an optional sampler, the analyzer can be calibrated or validated (confirmation of manufacturing process validity) at the operating site. New prepared standard solutions especially for this series are available. Using these will save customers the time and expense of purchasing and preparing items from a reagent manufacturer, and reduce mistakes caused by human error. In addition to analog and contact output, the measurement data can be output to a printer or USB flash drive, or browsed and acquired over the internet.
3. Support for Regulatory Compliance
The eTOC is compatible with the Japan Pharmacopeia (JP), the United States Pharmacopoeia (USP), and the European Pharmacopeia (EP). In addition, the instruments are equipped with security functions, including user authentication and operational log records, supporting compatibility with CFR 21 Part 11.* The LabSolutions software program provides integrated management of the measurement data together with data from laboratory TOC analyzers and other analytical instruments.
* US Federal Regulation 21 Part 11. These standards are related to electronic records and signatures for development and manufacturing that pharmaceutical companies must present to the Food and Drug Administration (FDA).

For more details, visit
eTOC Series