June 1, 2022

| News & Notices Aiming to Double LC-MS Unit Sales by Entering into the Compact LC-MS System Market
Release of the LCMS-2050 High-Performance Liquid Chromatograph Mass Spectrometer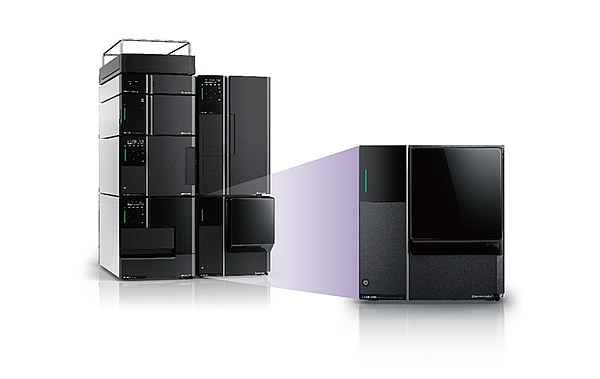 LCMS-2050 High-Performance Liquid Chromatograph Mass Spectrometer
Shimadzu Corporation announces the release of the LCMS-2050 high-performance liquid chromatograph mass spectrometer (LC-MS). This single quadrupole LC-MS achieves user friendliness, heightened basic performance, and a compact design. Shimadzu is aiming to double LC-MS unit sales by acquiring a wide range of first-time LC-MS system users. We will do this by providing a convenient analysis environment and highly reliable analytical results through the LCMS-2050 system.
Liquid chromatograph mass spectrometers (LC-MS) are used for research and development and quality control in fields such as pharmaceuticals, chemistry, and food. More specifically, single quadrupole LC-MS systems are used to ascertain the presence or absence of impurities in the pharmaceutical and chemical fields, and for confirmation of synthetic products (qualitative analysis) and measurement of the amounts of ingredients in food products (quantitative analysis). Single quadrupole LC-MS systems are easier to use and less expensive than triple quadrupole LC-MS systems, so they have been in strong demand, and the international market is growing by at least 5 % annually. Shimadzu entered the single quadrupole LC-MS market in 1997 and has become the top manufacturer in this field.
In recent years, there has been a demand for the better accuracy and precision afforded by LC-MS systems in comparison to analysis using a conventional liquid chromatograph (LC), leading to an expanded LC-MS system market and widening the scope of LC-MS users. For this reason, an easy-to-use system is needed to accommodate users inexperienced with LC-MS analysis. However, there are issues with conventional LC-MS systems, including the number of settings that must be configured before analysis in comparison to LC systems, and the problem of ensuring sufficient installation space for a large system, which cannot be downsized while maintaining high sensitivity.
To ensure user friendliness even for inexperienced users, the LCMS-2050 can be controlled via Shimadzu's LabSolutions analysis software, which is highly regarded for its usability, thereby achieving ready access on par with an LC system. In addition, the vacuum exhaust system and ion optical system components have been completely redesigned, resulting in a compact design with a 66 % smaller footprint than previous models. This allows it to be combined comfortably with an LC system for installation anywhere, even when adding it to an existing LC system. At the same time, thanks to the development and manufacturing technology that Shimadzu has cultivated as an LC-MS manufacturer, it provides excellent basic functionality, including high sensitivity, a wide mass range, and high-speed positive/negative ionization mode switching.
Through this achievement in LC-MS system development, Shimadzu will further the convenience of laboratory environments and the reliability of analytical results, thereby contributing to improving quality and efficiency in research and development and quality control for pharmaceuticals, chemistry, and food products.
Features
1. Meets Expectations for Ease of Use in an 'LC Component'
To ensure user-friendliness, even for first-time LC-MS system users, a convenient instrument control method has been adopted based on Shimadzu's LabSolutions analysis software. This LC-MS system can be operated in the same way as an LC system. In addition, Mass-it, a new function that automatically overlays MS results onto LC results, has been developed and incorporated. The Mass-it function reduces the risk that users inexperienced with LC-MS analysis will overlook features detectable only in MS data, and saves time and effort involved in visually comparing analytical results.
2. More Powerful Than Ever as a Mass Spectrometer
The wide mass range of the LCMS-2050 stretches from 2 to 2,000. In addition, a heated dual ion source (DUIS), which combines the features of electrospray ionization (ESI) and atmospheric pressure chemical ionization (APCI), has been used as the ionization source, enabling compounds with a wide range of characteristics to be analyzed simultaneously. In terms of positive/negative ionization switching, although Shimadzu's previous single quadrupole LCMS-2020 system provides the industry's fastest level of speed at 15 msec, this new model is even faster at 10 msec. Faster polarity switching increases the amount of information obtained in a set time, resulting in more accurate, higher quality data.
3. Contributes to Efficient Laboratory Operation with Savings in Space, Energy, and Time
The width and height of the system have been reduced in comparison to previous Shimadzu models, and the instrument footprint has been reduced by 66 %. It has been designed to be the same width as other Shimadzu LC Nexera series components, so additional bench space is not required when adding it to an existing LC system. At a mere six minutes, startup is at least three times faster than previous models. In addition, power consumption has been reduced by 43 %, reducing laboratory operating costs.

For more details, visit
LCMS-2050