September 16, 2021

| News & Notices
Release of the Xslicer SMX-1010 and Xslicer SMX-1020 Microfocus X-Ray Inspection Systems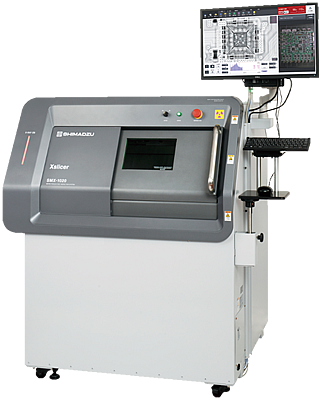 Shimadzu Corporation has released the new Xslicer SMX-1010 and Xslicer SMX-1020 microfocus X-ray inspection systems in Japan and other countries. Both X-ray inspection systems are designed for broad market appeal, with a vertical emission X-ray configuration, a 90 kV microfocus X-ray generator, and a high-resolution flat panel detector. They offer even better image quality and easier operability than the previous models (SMX-1000 Plus series), which achieved cumulative sales of over 1500 units. Faster sample stage movement and data capture improve inspection efficiency. Moreover, the operational workflow for the CT unit (optional) on the fluoroscopy stage shortens radiography preparation time by 80 %.
Microfocus X-ray inspection systems use a microfocus X-ray tube and an X-ray detector to enable non-destructive analysis or inspection of the interior of test pieces (items to be inspected). Shimadzu has been manufacturing industrial X-ray inspection systems since 1933 and now has the largest market share in Japan (on a unit sales basis, according to a Shimadzu study). These systems are mainly used by electrical/electronic parts manufacturers for quality control of components or circuit board assemblies, or for failure analysis of defective parts or products.
Features
1. Higher Image Quality than General-Purpose Models
The flat panel detector has the highest number of pixels in its class (1.5 megapixels for the SMX-1010 or 3.0 megapixels for the SMX-1020), which provides both high resolution and a wide field-of-view. Both models are also equipped with HDR (high dynamic range) functionality as standard. HDR functionality provides images with optimized contrast, even when performing a single scan of a test piece with varying thicknesses and/or made of multiple materials, thereby improving the visibility of voids and or other defects in internal structures.
2. Significantly Shorter Inspection Times
Operability is improved with state-of-the-art software. Workflow steps from test piece replacement to observation have been simplified, shortening the time between replacing the test piece and starting the inspection to only 5 seconds, compared to 23 seconds previously. Faster detector readings and sample stage movement result in shorter inspection times.
3. Support for 3D Data Analysis and Panoramic Imaging
The CT unit (optional) enables not only fluoroscopic inspections but also 3D data analysis. Calibration is automated, making CT imaging simple. The panoramic imaging function can take X-ray fluoroscopic images of up to 32 megapixels to inspect an entire circuit board or other large test piece in a single frame.
For more details, visit
Xslicer SMX-1010/1020