November 1, 2021

| News & Notices In Collaboration with the NCVC, Establishment of the World's First Technique for Detecting a Genetic Risk Factor for Cerebrovascular Disease Unique to East Asia
Shimadzu Techno-Research Commences a Contract Analysis Service for Medical Institutions for Research Purposes Only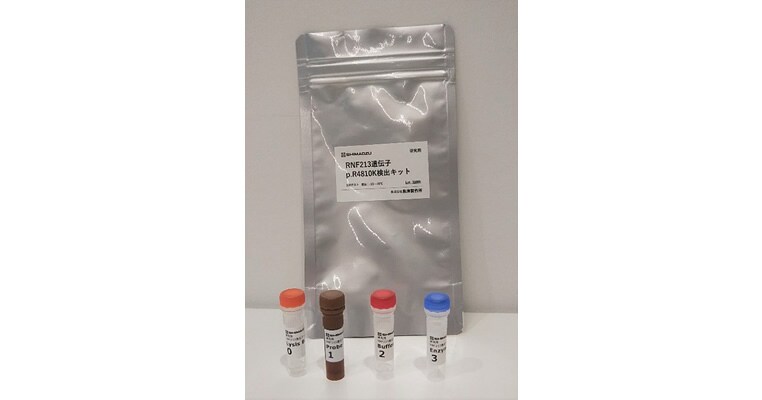 RNF213 gene p.R4810K polymorphism detection reagent kit (not on sale)
Note: This product is used by the contract analysis service, There are currently no plans for its commercial sale.
A research group at the National Cerebral and Cardiovascular Center (NCVC, President: Kinya Otsu, Location: Suita, Osaka Prefecture, Japan) including Masafumi Ihara (Head of the Division of Neurology), Yorito Hattori (Chief Physician of the Division of Neurology), and Takeshi Yoshimoto (Physician of the Division of Neurology), and Satoshi Saito (Physician of the Division of Neurology) and Shimadzu Corporation (Kyoto, President and CEO: Teruhisa Ueda) established the world's first technique (hereinafter referred to as "this technique") capable of detecting the p.R4810K polymorphism on the RNF213 gene (a genetic polymorphism that changes arginine to lysine at position 4810 in the protein coded by the RNF213 gene, hereinafter referred to as "this polymorphism") from 1 μL of blood by a direct real-time PCR method. Among genetic risk factors for cerebrovascular disease, this polymorphism is considered to exhibit the strongest association with stroke. From September 1, 2021, the contract analysis subsidiary Shimadzu Techno-Research (Kyoto, President: Shuro Fukunaga) will commence a contract analysis service to detect this polymorphism in blood samples. This service will be offered for research purposes only to medical institutions that participate in joint research with the NCVC.
Background
In Japan, over 110,000 people die from stroke each year. Cerebral infarction accounts for 70 to 80 % of these stroke deaths, is a primary cause of bedridden patients and dementia, and incurs direct health care costs in excess of JPY 1 trillion each year. Japan sees a particularly high frequency of cerebral infarction compared to countries in Europe and the United States, and genetic causes of cerebral infarction in Japan are suspected to be different to Europe and the United States.
In 2019, the research team of Ihara et al. became the first in the world to report (Okazaki S. et al. Circulation 2019) that this polymorphism, which has been associated with Moyamoya disease (*1), is a potent susceptibility gene (*2) for atherothrombotic brain infarction, primarily caused by arteriosclerosis (*3) in relatively large blood vessels in the brain. Based on analyses to date, this polymorphism is present in 2 to 3 % of healthy Japanese people, approx. 5 % of patients with cerebral infarction, and 25 % of patients with cerebral infarction attributed to intracranial stenosis (or occlusion) of a large vessel. This polymorphism is important for pathological diagnosis of cerebral infarction, and the establishment of an evaluation system for this polymorphism is sought by physicians and researchers in Japan and other East Asian countries.
| | |
| --- | --- |
| (*1) | Moyamoya disease: A disease that affects blood vessels in the brain and is characterized by narrowing of the terminal part of a large cerebral vessel called the internal carotid artery and the formation of a network of abnormal collateral vessels. Patients with Moyamoya disease are known to develop cerebral hemorrhage and cerebral infarction. |
| (*2) | Susceptibility gene: A mutation in a susceptibility gene does not necessarily cause disease as in single-gene disorders, rather a mutation in this gene makes the carrier more susceptible to develop disease or, conversely, less susceptible to develop disease. |
| (*3) | Arteriosclerosis: A generic term for thickening or hardening of the walls of an artery that adversely affects vessel structure and impairs normal vessel behavior. |
Results
The research group and Shimadzu Corporation established a technique capable of detecting this polymorphism from 1 μL of blood within 1 hour using a real-time PCR device. The NCVC and Shimadzu Corporation have made a joint application for a patent on a risk assessment for cerebral infarction that is based on this technique. A contract analysis service that detects this polymorphism will also be provided by Shimadzu Techno-Research.
Shimadzu Corporation used its unique Ampdirect™ technology to develop PCR test reagents for this technique and will supply these reagents to the NCVC and Shimadzu Techno-Research. Ampdirect™ technology suppresses PCR inhibitors such as proteins and polysaccharides found in biological samples, enabling the direct addition of biological samples to PCR reaction liquids without isolation and purification of DNA and RNA. To date, Shimadzu Corporation has used Ampdirect™ technology to develop reagents for the detection of pathogenic agents that include enterohemorrhagic E. coli, Salmonella, Shigella, norovirus, and SARS-CoV-2.
Future Prospects and Issues
Except for some Universities and other research institutes, detecting this polymorphism has so far proved difficult. The contract analysis service is expected to substantially accelerate endeavors to determine the presence of this polymorphism and reveal conditions associated with this polymorphism. The contract analysis service will only be available at the request of medical institutions that participate in joint research with the NCVC and if patient consent has been given. Other, general requests for this analysis will not be accepted. Although this contract analysis service is for research purposes only and only available to Japanese medical institutions, the research group also intends to expand the service internationally. Discoveries made in Japan will help improve health care standards in East Asian countries.