December 21, 2020

| News & Notices Release of Fully-Automatic PCR Testing System for Clinics
Contributes to Japan's COVID-19 Testing Capabilities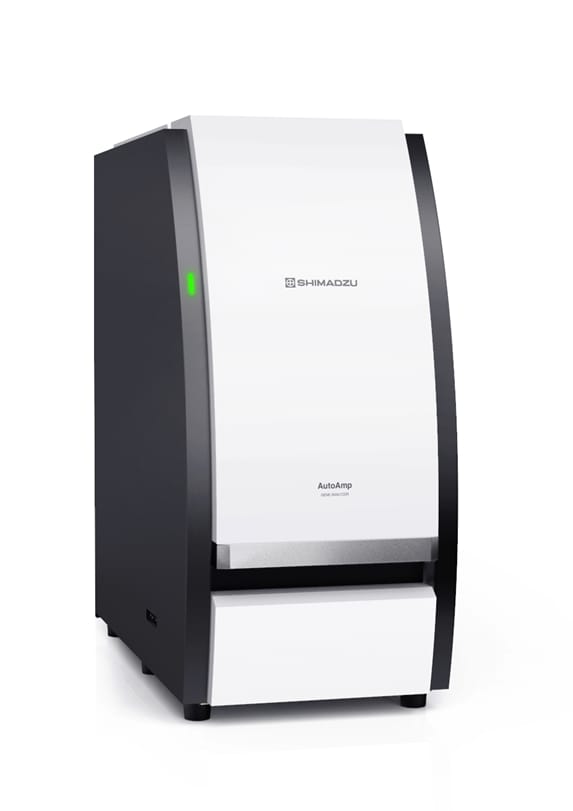 Shimadzu Corporation has released the AutoAmp Genetic Analyzer ("AutoAmp") for sale in Japan, enabling clinics to perform fully-automatic PCR testing. With the AutoAmp, classified as a Class I medical device, PCR testing involves simply setting the biological samples, dispensing tips, reagent vials, and reaction vessels in place. This instrument can also be used to detect the novel coronavirus (SARS-CoV-2) using the Ampdirect™ 2019-nCoV Detection Kit of in-vitro diagnostic reagents offered by Shimadzu.
The AutoAmp provides real-time PCR testing at a price that is affordable not only to the testing laboratories and large hospitals that have played a leading role in novel coronavirus testing, but also to medium-sized hospitals, smaller clinics, and quarantine stations.
Previously Shimadzu offered the Ampdirect™ 2019-nCoV Detection Kit of in-vitro diagnostic reagents (100 tests' worth), but a kit with 12 tests' worth of reagents recommended for use with the AutoAmp was released on the same day as this instrument. Offering a broader lineup of instruments and reagents for PCR testing will help to expand and improve novel coronavirus testing in Japan. In addition, Shimadzu plans to develop various reagent kits for other infectious diseases.
Note: Currently the AutoAmp and reagents are only available in Japan.
Features
1. Simple Operation Enables Reliable Data Acquisition
Full automation of the workflow, from pretreatment steps required for measurement to PCR and fluorescence measurement, reduces the risk of human error and ensures reliable data acquisition.
2. Control Four AutoAmp Units from One PC
Each AutoAmp unit can simultaneously measure four samples, and up to four AutoAmp units can be controlled from one PC. Testing capacity can be expanded in response to demand.
3. Compact Design Suitable for Small Clinics
The AutoAmp's compact size (W30 × D65 × H65 cm) allows it to be installed in facilities with limited space. Air from around the sample vials and discarded dispensing tips is suctioned into the AutoAmp unit and passes through a special filter before being discharged.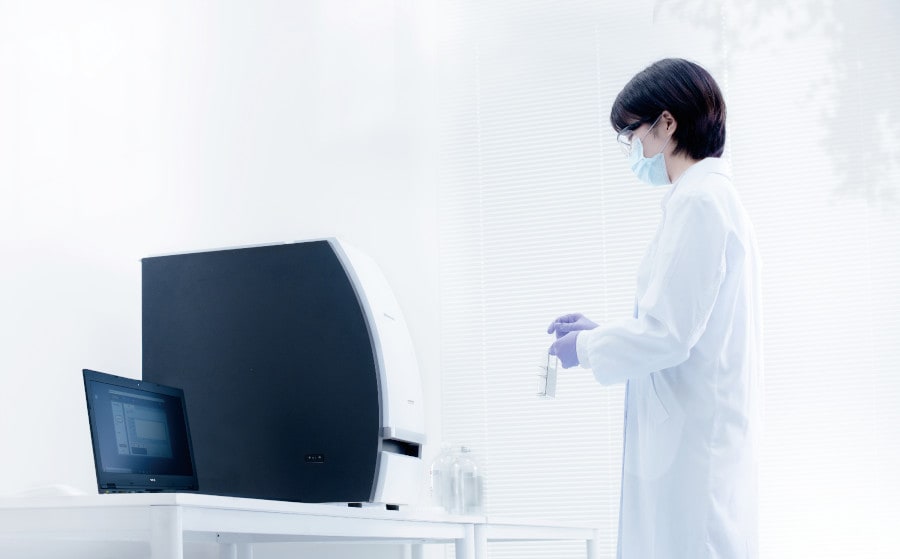 Using the AutoAmp Genetic Analyzer (for illustrative purposes only)