July 25, 2022

| News & Notices Proof of Concept of Diagnostic Aid Technology for Depression Using Blood Tests
Together with Kyushu University and HMT, Bringing the Testing Model to Society
Shimadzu Corporation is participating in the project "Creating a System for Maintaining the Mental Health of Working People—Preventing Depression and Supporting Return to Work—" being undertaken by Kyushu University (Fukuoka City; President: Tatsuro Ishibashi) and Human Metabolome Technologies Inc. (Head Office: Tsuruoka City, Yamagata Prefecture; Representative Director and President: Katsuhito Hashizume; HMT).
Kyushu University Hospital Mood Disorders and Pathological Social Withdrawal Outpatients Section (Faculty of Medical Sciences, Department of Neuropsychiatry, Kyushu University, Led by Associate Professor Takahiro Kato) is developing methods of treating pathological social withdrawal and mental disorders based on biological, psychological, and social understanding. In 2016, a method for diagnosing the severity of depression using metabolite biomarkers in the blood was established jointly with the Clinical Laboratories of Kyushu University Hospital. In 2020, in joint research with the research group of Associate Professor Kato and others, Shimadzu Corporation developed a method of aiding diagnosis of depression. At present, both are developing a highly accurate stress screening model that is a combination of grouping in accordance with stress susceptibility of the patient obtained from a medical interview, and biomarkers in the blood obtained from a high-performance liquid chromatograph mass spectrometer (LC-MS) system.
In "Creating a System for Maintaining the Mental Health of Working People—Preventing Depression and Supporting Return to Work—," a joint proof of concept (hereafter, POC) project is being undertaken in medical checkups in companies, etc., so that these testing methods can be applied in society. Already Shimadzu and Associate Professor Kato's research group have started the demonstration research with 100 subjects from model companies in Fukuoka City, and in cooperation with medical checkup centers we will establish a system for early detection of mental health issues in employees in companies. Through this POC project with Kyushu University, Shimadzu will establish a testing service package and construct a testing model for employee medical checkups and health screening, with the aim of making organization management consultation combined with testing available to the public.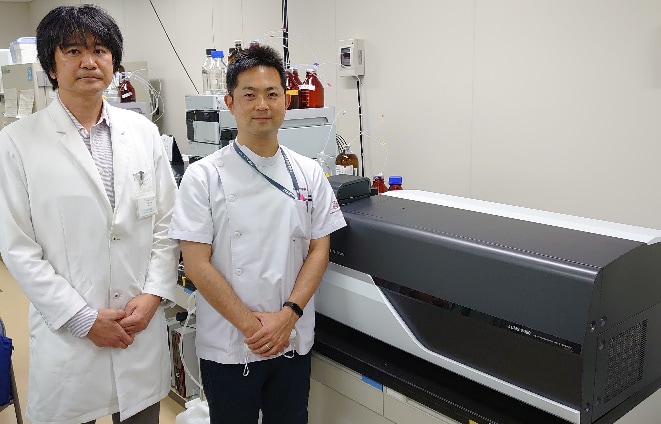 Photo: Associate Professor Takahiro Kato (left), and Assistant Professor Daiki Setoyama of Clinical Laboratories at Kyushu University Hospital, and the High-Performance LC-MS Used in the Research