March 17, 2020

| News & Notices Achieving Underwater Optical Wi-Fi Using Underwater Drones
Release of MC100 Underwater Optical
Wireless Communication Modem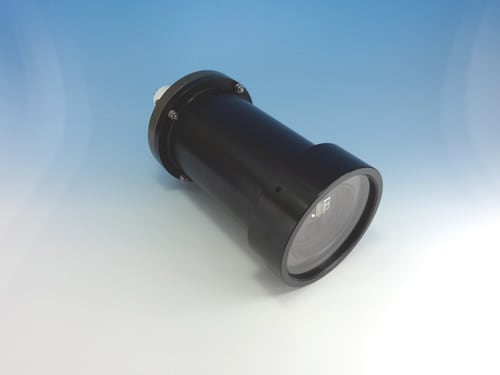 Shimadzu Corporation has released the MC100 Underwater optical wireless communication modem. The modem enables underwater wireless communication at speeds over 95 Mbps across distances more than 10m. It is offered to provide reliable underwater communication with unmanned underwater vehicles such as AUVs, tetherless ROVs, and underwater drones used to scan ocean floors, maintain and manage pipelines, and so on.
Previously, the main communication methods used underwater involved either "wired" communication via a cable or slow communication via sound waves. The cable required for wired communication limited the activities possible with underwater drones, whereas sonic communication limited communication speeds to tens of Kbps. A variety of companies are researching underwater optical wireless communication, but most products use an LED light source. Instead, to offer high-speed communication while maintaining low power consumption levels, Shimadzu developed the MC100 Underwater Optical Wireless communication modem using a semiconductor laser light source with excellent directionality and response speed. The modem was developed using results from research and development* by Shimadzu Corporation and the Japan Agency for Marine-Earth Science and Technology (JAMSTEC), based on Innovative Science & Technology Initiative for Security, ATLA, Japan.
The technology for underwater optical wireless communication is dual-use technology that can be used for both military defense and consumer applications. Shimadzu's Aircraft Equipment Division intends to contribute to marine development by continuing research and development of underwater optical wireless communication technology and offering technologies for building a communication environment that can be considered an "underwater optical Wi-Fi" system.
*Project Name: Study of adaptive underwater optical wireless communication with photo-multiplier tube
Shimadzu Corporation participated in the research as a subcontractor for two years, from 2016 to 2017.
Features
1. High-Speed Communication at over 95 Mbps
By achieving reliable high-speed underwater wireless communication, the modem can be used for previously impossible real-time communication of high-definition video or transmission of large files, for example.
2. Deep Water Pressure-Resistant Design
The modem is water pressure-resistant to ocean depths over 3500 m to ensure it can be used where underwater drones are expected to operate.
3. Weight and Size Suitable for Compact Underwater Drones
The compact light-weight body (113 mm diameter × 250 mm long and 2.85 kg weight) of the integrated transmitter/receiver modem makes it easy to install in small underwater drones with limited installation space.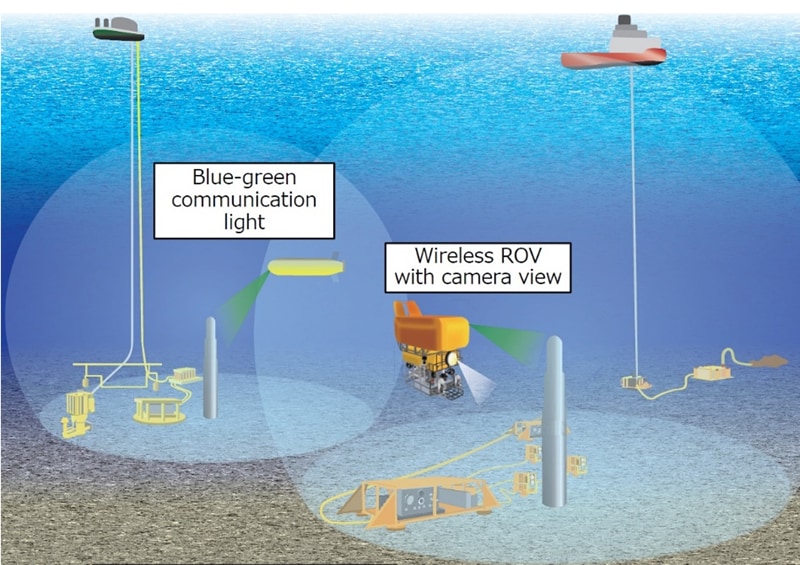 Underwater Wi-Fi Achieved in the Ocean (Illustration)
For more information, contact
jiki@group.shimadzu.co.jp
+81-3-3219-5850