January 24, 2022

| News & Notices
MALDI-8030: Shimadzu adds further versatility to existing class-leading line up of MALDI-TOF Mass Spectrometers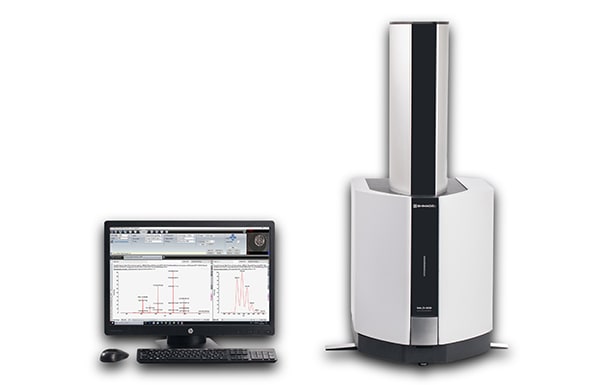 Shimadzu Corporation announces the release of the MALDI-8030, further consolidating Shimadzu's status as a world leader in the market segment for benchtop matrix-assisted laser-desorption/ionization time-of-flight (MALDI-TOF) mass spectrometers. Similar to the class-leading MALDI-8020, the MALDI-8030 uses an identical innovative instrument design – based on the award-winning sleek design - to produce a compact footprint, whilst still achieving performance specifications similar to larger, more expensive MALDI-TOF models. The added feature of a dual-polarity ion source provides further versatility for users who want to analyse molecules in both positive and negative ion mode.
Based on the user-centric concept, the MALDI-8030 is remarkably easy to use, with the intuitive MALDI Solutions software which caters for both advanced and novice users alike. The front panel multi-LED keeps users informed of the instrument status and the operation is comfortably quiet (< 55 dB).
The Fast-MS design combines a fast solid-state laser (200 Hz) with quick sample stage movement, a fast transient recorder for rapid data transfer, and a load-lock system for rapid sample target introduction, all of which accelerates the time-to-results turnover and improves laboratory productivity.
The dual-polarity ion source and the patented WideBoreTM ion optics provides class-leading sensitivity and mass resolution to enable low-level detection of proteins, peptides and polymers, among other analytes, in either positive or negative ion mode.
Designed as a true laboratory workhorse, the MALDI-8030 facilitates routine maintenance and maximizes instrument up-time with the use of the patented TrueCleanTM which performs automated UV laser self-cleaning of the ion optics. The absence of desiccant and use of an oil-free diaphragm pump reduce maintenance costs. The MALDI laser has a class-leading lifetime of 2 billion shots.
Routine workflows for academic, QC and regulatory laboratories are ideal on the MALDI-8030. The integrated barcode scanner allows a seamless tracking process from loading samples to obtaining results. Additionally, the popular MALDI Solutions software offers data security, including password-controlled user access, to help meet 21 CFR Part 11 compliance.
Commenting on the release of the MALDI-8030, Mr. Kozo Shimazu, Managing Director of Kratos Analytical (a wholly owned subsidiary of Shimadzu Corporation), said, "I am very proud to announce the launch of the MALDI-8030. Kratos Analytical has a long history of 'firsts' with MALDI-TOF technology going back to 30 years when we released the world's first benchtop with the 'KOMPACT MALDI' benchtop instruments. The MALDI-8020 is a best-in-class positive ion mode linear MALDI-TOF benchtop, and we have listened to our customers' needs to provide negative ion mode analysis in the same small form factor. Both MALDI-8020 and MALDI-8030 instruments offer excellent performance, so our customers will still have speed with accuracy in a compact affordable package."
The MALDI-8030 was previewed in November 2021 at the Japan Analytical & Scientific Instruments Show (JASIS) in Tokyo, Japan.
For more details, visit
MALDI-8030