February 12, 2020

| News & Notices Elmammo Dedicated Breast PET System Released in China
Supports Early Diagnosis of Breast Cancer with High Resolution Images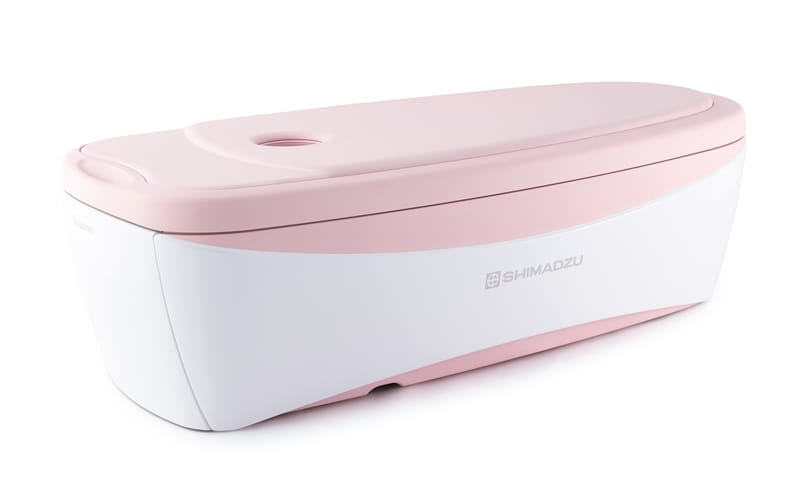 In February, Shimadzu Corporation started selling Elmammo dedicated breast PET systems in China. Elmammo systems enable highly accurate breast cancer examinations.
With the number of breast cancer patients increasing throughout the world, each year about 300,000 women*1 get breast cancer in China (versus about 76,000 in Japan*2). Furthermore, in recent years there has been increasing awareness about the importance of early detection and early treatment of cancer in China, as evidenced by the large number of people that travel to Japan to receive PET cancer screenings, for example. The number of PET systems operating in China is increasing as well. It is predicted that there will be about the same number as in Japan by the end of 2020 (with about 600 systems currently operating in Japan).
Shimadzu released the Elmammo in the fall of 2014. Since then it has earned a reputation for its low patient discomfort and for providing high definition PET images. Consequently, Shimadzu applied for approval to sell the system in China.
Based on the United Nations sustainable development goals (SDGs), Shimadzu has been engaged in business activities intended to solve challenges of society. Therefore, Shimadzu intends to contribute to early detection and early treatment of breast cancer in China by focusing efforts on increasing Elmammo sales and expanding the Medical Systems business in China.
Note: Shimadzu commercialized this product based on results achieved through work funded by Japan's New Energy and Industrial Technology Development Organization (NEDO).
Note: PET is an acronym for positron emission tomography. PET examinations involve administering an examination drug and then using a detector to visualize the distribution of the drug after the patient is kept in a quiet state for a given period.
*1 Source: Cancer Statistics in China, 2015
*2 Source: Center for Cancer Control and Information Services, National Cancer Center
Features
1. Examinations Cause Minimal Burden on Patients
Examination images can be obtained by having the patient simply lie face down and placing one breast at a time into the detector hole. Examination images can be obtained from both breasts in about 15 minutes, without compressing the breasts.
2. Provides High Resolution PET Images
The detector hole is designed with high-performance detectors positioned close to and surrounding the breast, which achieves both high sensitivity and high resolution. It provides images with about twice the resolution of whole-body PET scanners, so that a detailed distribution of the drug can be determined, which is especially useful for diagnosing the distribution or characteristics of cancer.
3. Easily Compared to or Combined with MRI or Other Morphological Images
The three-dimensional images obtained from the Elmammo can also be sent to an image viewer for comparison or combination with MRI or other morphological images to observe the status and positional relationships of breast cancers in more detail.