February 22, 2022

| News & Notices New Turbomolecular Pump Model Reduces Environmental Impact
TMP-V4404LMW Released for Thin-Film Coating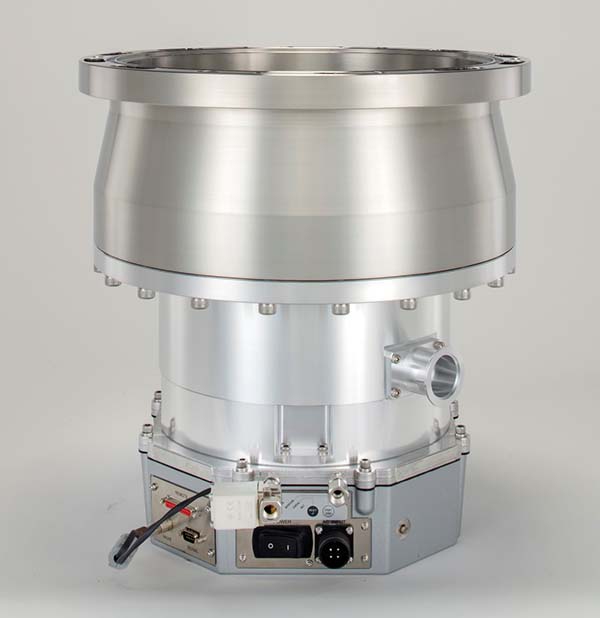 TMP-V4404LMW Turbomolecular Pump
Shimadzu Corporation announces the release of a new TMP-V4404LMW turbomolecular pump designed for thin-film coating with vacuum vapor deposition or sputtering systems. Compared to the TMP-XZ4304LM released in 2015, the new model offers faster pumping speed that enable higher quality film deposition. The lighter weight and lower power consumption result in faster startup times, higher water resistance, increased safety and lower resource consumption.
Thin-film coating is a processing technology for applying a thin film onto glass, metal, plastic, or other substrate material under vacuum conditions during manufacturing processes to add tothe functionality and or durability of materials. For example, it is used to coat optical components used in smartphones or automobiles, solar panels, and low-emissivity (low radiant heat transfer) glass used in construction materials and other products. Shimadzu has established a large market share of turbomolecular pumps (TMPs) used to generate a vacuum environment for thin-film coating. Shimadzu offers a wide variety of TMP products for manufacturers of vacuum vapor deposition systems and sputtering systems throughout the world. We will continue to research and develop environmentally-friendly TMPs according to Shimadzu's management principle "Realizing Our Wishes for the Well-being of Mankind and the Earth."
Features
1. Up to 18% Lower Power Consumption
The new model helps reduce environmental impact by consuming 18% less power (when pumping at maximum gas flowrate) than the previous model.
2. Reduction in Pump Weight
The pump weight was also reduced from 115 kg. to 98 kg. which reduces workloads during pump relocation and installation.
3. Designed for Easy Opera and High Film Quality
Startup time was shorted to less than 12 minutes, compared to 14 minutes for the previous model, which helps increase productivity. The new model meets the standards for an IP54 ingress protection (IP) rating, which indicates a high level of resistance to water and dust ingress, and can be used in a wide variety of environments.
4. Both Oil-Free and Maintenance-Free
TMPs achieve a vacuum state by removing air molecules with turbine blades spinning at high speeds. The new model, which is designed specifically for thin-film coating applications, features a magnetic bearing that magnetically levitates the turbine for exceptionally quiet operation. The magnetic bearing also eliminates the need to apply or replenish lubricant oil. This keeps the space clean and the lack of metal wear results in particularly long product life. Being both oil-free and maintenance-free reduces its environmental impact and reduces operating costs.