June 7, 2022

| News & Notices Providing Highly Expandable, Easy-to-Operate Systems in the World's Smallest Design
Release of the AA-7800 Series Atomic Absorption Spectrophotometers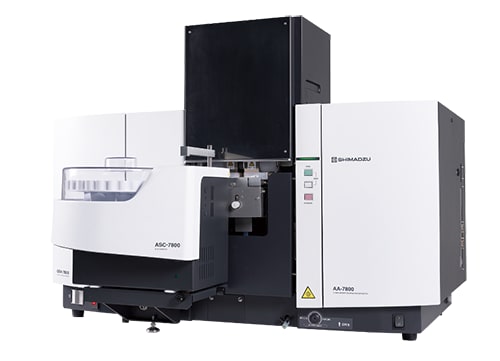 AA-7800 Series Atomic Absorption Spectrophotometer
Shimadzu Corporation announces the release of the AA-7800 series atomic absorption spectrophotometers. In addition to having the world's smallest*1 installation footprint, the AA-7800 series is equipped with the versatility to accommodate a variety of applications, and the safety and operability to instill confidence even in first-time users. Further, remote data analysis via a network connection enhances the flexibility of the operator's work style.
Atomic absorption (AA) spectrophotometers take advantage of the fact that atoms absorb light at a wavelength unique to each element, and that the higher the concentration of an element, the greater the degree of absorption. They determine how much of each element a sample contains. They are used for quality control in the food, raw material, and chemical fields, and for inspections of water quality and hazardous substances in soil. AA systems have advantages over ICP emission spectrometers and other elemental analysis systems in that they are more compact, easier to operate, and less expensive to install and operate. Accordingly, AA has often been adopted as an essential (official) analysis method in environmental, food, and pharmaceutical fields, and demand is expected to remain solid. Shimadzu has been selling AA systems since 1968.
To date, Shimadzu produced all major global products and core parts at plants in Japan. However, the AA-7800 series atomic absorption spectrophotometers are produced at Shimadzu (Suzhou) Instruments Manufacturing, Co., Ltd., for release worldwide. We are promoting local production for local consumption by producing these systems in China, which is the largest AA market. Through these products, Shimadzu aims to expand its market share both in China and the rest of the world.
*1 The world's smallest dual system capable of switching between flame measurements and furnace measurements (according to a Shimadzu survey in June 2022).
Features
1. Any Application: Flexible Expandability to Accommodate a Variety of Applications
These systems can be configured with an autosampler (a mechanism to inject samples into the main unit) and other accessories to meet user's application. Thanks to a variety of system configurations, they can accommodate different numbers of measurement samples, different concentrations of measured elements, and a variety of other needs with respect to analytical conditions, applications, and fields.
2. Any User: With a View to Safety and Easy Operation by Anyone
AA systems are used for flame measurements*2, so safety must be considered. They are equipped with multiple safety functions, including automatic flame extinguishing during earthquakes. In addition, they are equipped with functions to automatically optimize measurement conditions, such as the gas flowrate and burner height, making them easy to use, even by first-time users.
3. Any Location: Providing the World's Smallest Size, and Freeing Operators from the System
These systems provide the world's smallest installation footprint for a dual system capable of switching between flame and furnace measurements*3, increasing the flexibility of the installation site. In addition, connecting them to the LabSolutions CS analysis data system enables data processing away from the laboratory.
*2 Flame measurements: A measurement method that uses a flame for atomization
*3 Furnace measurements: A measurement method that uses an electric furnace for atomization
For more details, visit
AA-7800 Series