January 26, 2022

| News & Notices Supporting More Efficient Aroma-Related Development and Evaluation
Release of Aroma Analysis Software for GC-MS
Shimadzu Corporation announces the release of Smart Aroma Database, software for aroma* analysis using gas chromatograph mass spectrometers (GC-MS). This software easily detects the specific components characterizing an aroma. In addition to automatic detection of aromatic components with high accuracy, Smart Aroma Database is equipped with a function for searching for the components characterizing an aroma from the detection results with aroma information based on olfaction, or "how something smells."
*This refers to those components included in an odor with a pleasant smell.
In recent years, social awareness about the aromas of foods and in our living environment has increased. Manufacturers of food products, beverages, fragrances, and industrial materials now need to develop high added-value products that smell better, as well as products that have been stripped of any unpleasant aromas. For example, commercial product development includes craft beers that enhance the hop aroma to the utmost, and packaging materials that are as odorless as possible. In such cases, aroma analysis is performed using analytical instruments, primarily gas chromatograph mass spectrometers (GC-MS), increasing the need for development with a scientific basis. In addition, manufacturers who are already performing aroma analyses require more efficient methods in accordance with increasing product sophistication and shortened life cycles. Further, manufacturers with little experience in aroma analysis require simple methods for aroma analysis. However, issues in conventional aroma analysis include the time required to search for the optimal analytical conditions; the difficulty in comparing analysis data to aromatic components; and the labor involved in determining which of the components detected are characterizing aromas.
This software includes GC-MS analytical conditions for more than 500 aromatic components often appearing in reported examples, leading to shorter work times. In addition, the software performs a high-accuracy comparison between the analysis data and the registered aromatic components, which simplifies the detection of aromatic components. Further, with respect to the multiple aromatic components detected, the important components characterizing an aroma are easily found using preregistered olfactory information (sensory data).
Shimadzu has previously developed and released the Off-Flavor Analysis Database, software for off-flavor analysis using GC-MS. Adding the Smart Aroma Database provides total support for the analysis of aromas via GC-MS, contributing to more efficient research and development, product quality evaluations, and management by manufacturers of food products, beverages, fragrances, and industrial materials.
Features
1. Automatic Detection of Aromatic Components with High Accuracy
The software automatically determines whether aromatic components have been detected and their type, based on the degree of similarity between the analysis data and aromatic components registered in the database. In comparison to conventional methods, there is no need to visually inspect the analysis data, which reduces the labor involved in data analysis while improving the accuracy of the detection results.
2. Easily Discovers Important Components Characterizing Aromas
The software can use preregistered sensory data and aroma strengths to narrow down the multiple aromatic components detected to those characterizing an aroma. Further, a high-sensitivity analysis, such as SIM or MRM analysis, of the shortened list of aromatic components is then easily performed using the database.
3. Supports a Variety of Systems
In aromatic analysis, a variety of pretreatment methods are used depending on the form and concentration of the samples, so this software supports multiple combinations of pretreatment instruments and GC-MS systems. Further, it can be used in combination with a sniffer GC-MS, which is often used in aromatic analysis, so the aromas detected can be checked by actually sniffing them.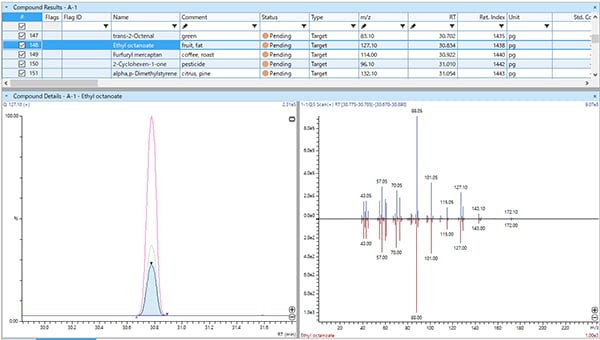 Smart Aroma Database Software Window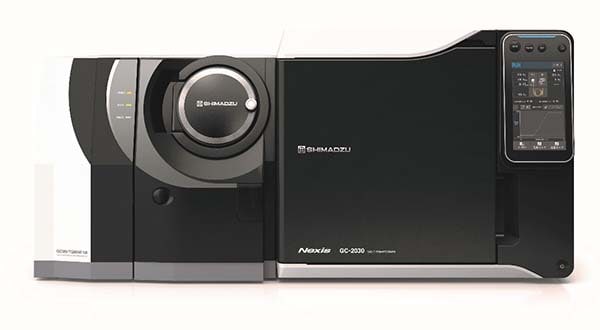 GCMS-TQ8050 NX Gas Chromatograph Mass Spectrometer
For more details, visit
Aroma Analysis Software for GC-MS