December 13, 2021

| News & Notices Shimadzu Releases New Version of Its Cell Pocket Web Application for Supporting Cell Observation
Cell Image Management and Analysis Software Augmented by AI (Deep Learning)
Shimadzu Corporation announces the release of Ver. 2.00 of Cell Pocket, a web application supporting cell observation (referred to below as "Cell Pocket Ver. 2.00"). Cell Pocket Ver. 2.00 is data management and analysis software for laboratories that perform cell cultivation. It enables them to share cell image data generated from experiments and to rapidly and accurately quantify cell counts and coverage areas using artificial intelligence (AI). The app enables image data that has been scattered across laboratory and office computers to be stored along with the associated cell culture parameters. It uses Shimadzu's unique AI-based image analysis functionality to support the observation of cell cultivation conditions. Version 2.00 includes a variety of improvements to the functionality of the previous version of Cell Pocket, including the addition of 14 types of data analysis recipes and enabling changes to data processing settings that require no programming knowledge.
In cell culture laboratories, operators perform the tedious but essential processes of visually determining the status of the culture, counting the number of cells being observed, and estimating the percentage of the area covered by cell colonies. Existing data analysis software requires specialized knowledge and experience for the complicated process of configuring the data analysis parameter settings. Though some data analysis software includes AI technology, the difficulty of collecting large amounts of teaching data and the reliability of data analysis results based on deep learning have remained issues. In contrast, the Cell Pocket Ver. 2.00 app developed by Shimadzu Corporation features proprietary technology (patent pending) that can quickly and accurately analyze images after the AI has been trained on just a few dozen images. It can calculate quantitative information, such as the number of cells, colony shape information, and percentage of abnormal cells, relevant to cell cultivation site users. The app also includes a function to verify the accuracy of data analysis after the AI has been trained so that users can verify the reliability of deep learning technology themselves.
In addition to improving the efficiency of research and development operations at research, academic, and corporate institutions engaged in stem cells or regenerative medicine research and in the development of products for regenerative medicine or cell culture consumables, the Cell Pocket Ver. 2.00 app enables smoother communication between research departments by consolidating data from the entire laboratory. Product development was overseen by Dr. Shin Kawamata at the Foundation for Biomedical Research and Innovation at Kobe. Shimadzu is committed to promoting open innovation for researching and developing solutions for cell cultivation.
This product is only available in Southeast Asia, China and Oceania.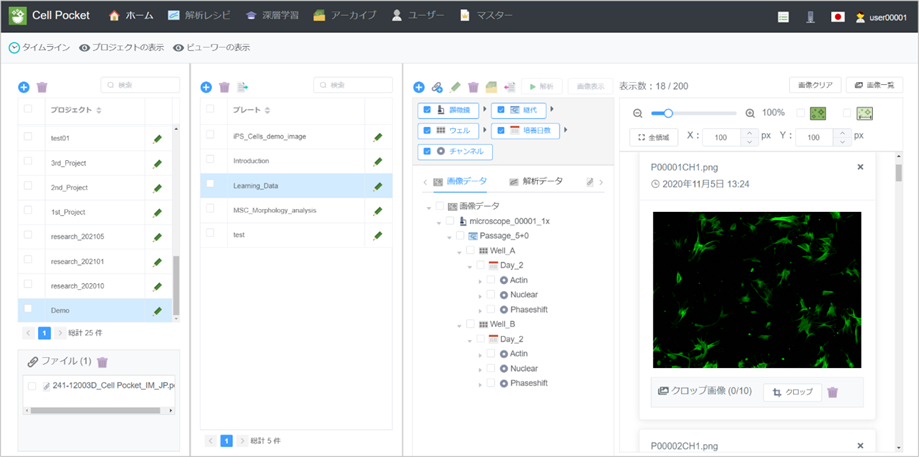 Screenshot from Cell Pocket Ver. 2.00 Cell Observation Support Web Application
Features
1. Integrated AI Facilitates Multifaceted Analysis of Cell Images
The AI functionality developed independently by Shimadzu is trained on the user's cell image data. Once training finishes, the app enables expert-level data analysis without having to configure parameter settings. Fourteen types of frequently-used image processing and data analysis programs, or operations such as linking images, counting cells, and detecting defects, are included. These can be combined to create unique user-defined data analysis recipes.
2. Easy Management and Sharing of Image Data
Cell image data scattered across various laboratories and offices can be consolidated, managed, and shared by up to 20 registered users. The data can be filtered by parameters such as cell type or culture medium, making it easy to manage uploaded images. An input template function is available to ensure consistent information is input by all registered users.
3. User Interface Designed Specifically for Cell Cultivation
The app was developed as a dedicated cell cultivation system. The screen layout has been designed with careful attention to detail. For example, it allows users to easily link image data to cell cultivation parameters. That also makes it easy to compare data acquired using the same parameter settings or search for past data.

Abnormal Cell Detection Data Analysis Example (Blue is Normal and Red Abnormal)

Data Analysis Example of Numerical and Graphical Analysis of Colony Shapes
For more details, visit
Cell Pocket