December 10, 2021

| News & Notices Expanding Market Share by Entering High-End Market
Release of Six New AP-AD Series Analytical Balances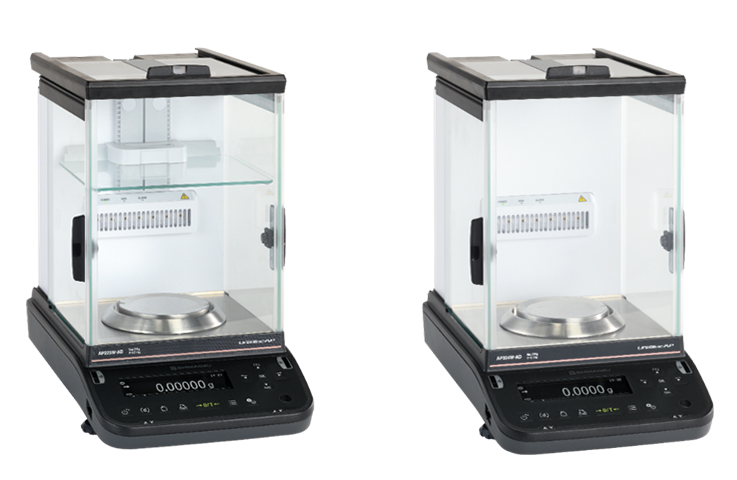 New Electronic Balance Models: AP225W-AD (with 0.01 mg minimum display value) (left) and AP324W-AD (with 0.1 mg minimum display value) (right)
Shimadzu Corporation released six new models in its AP-AD series of analytical balances simultaneously in Japan and other countries. The new AP-AD series models not only offer excellent basic performance, such as fast weighing times of about two seconds and high measurement stability that minimizes errors, but also include new functionality that improves convenience, such as automatic doors and touchless sensors. By releasing the AP-AD series these high-end analytical balances, Shimadzu intends to increase global market share to about 10 %.
AP-AD series models include new automatic doors that improve operation. Touchless sensors enable the entire range of weighing operations to be performed without touching the operating panel on the main unit, which helps prevent infections and reduces the risk of foreign matter contaminating analytical samples. AP-AD series models are also equipped with an ionizer that can remove static electricity from samples and containers and a movable internal windbreak plate that is useful for shortening weighing times (only on the 0.01 mg minimum display model). Consequently, they can significantly improve the efficiency of measuring operations by providing faster and more reliable measurements over the long term. By using a Shimadzu analytical network system via LabSolutions Balance software to manage weighing data, information can be managed in combination with measurement data from liquid chromatographs or a variety of other analytical instruments in order to comply with the latest regulations relevant to the pharmaceutical industry and other industries.
Analytical balances are key measuring instruments used to measure the weight of reagents, samples, and other substances used in analysis. They are used for research, development, manufacturing, quality control, and many other applications by customers in a wide variety of industries, including academia, government, pharmaceuticals, chemicals, electronics, and foods. Shimadzu Corporation is a leading Japanese analytical balance manufacturer that has been manufacturing and selling balances since 1918. Shimadzu remains committed to helping users improve their operating efficiency by continuing to develop high-performance products that are easy to use.
Features
1. Automatic Doors and Touchless Sensors Improve Productivity
To prevent air flow near the analytical balance from affecting measurements, the weighing pan where samples are placed is enclosed by glass doors on the top and both sides. AP-AD series analytical balances include functionality that can automatically open or close glass doors in about one second. They also include automatic learning functionality for remembering opened and closed-door positions and touchless sensors that operators can use to open or close the glass doors while holding chemicals, samples, or other items with both hands. The touchless sensors located on the left and right side of the balance can be assigned to activate up to four different operations, based on how long the operator holds their hands over the sensors. Consequently, all weighing operations can be performed without touching the balance, which not only increases operating efficiency, but also means hazardous substances can be handled hygienically.
2. Built-in Ionizer and Movable Internal Windbreak Plate Help Ensure Quick and Accurate Weighing
When weighing substances in an analytical balance, static electricity on samples or containers, or convective currents caused by temperature changes within the space enclosed by the glass doors, can affect weight values. To address this, AP-AD series models are equipped with an ionizer for removing static electricity, thereby ensuring more accurate weighing values. The model with a minimum display value of 0.01 mg is also equipped standard with a movable internal windbreak plate that suppresses the effects of convection and other air flow inside the weighing chamber. That can shorten weighing times and improve stability with respect to external air temperature changes.
3. Satisfying Customer Needs for Regulatory Compliance and Compatibility with Non-Shimadzu Brands
By connecting AP-AD series balances to LabSolutions Balance software, weighing results can be managed together with the operator name, weighing date/time, and other information to ensure data reliability and to support compliance with various regulations. It also enables compliance with the latest regulations in both the pharmaceutical industry and other industries by connecting balances to a Shimadzu analytical network system so that weighing information can be managed together with measurement data from liquid chromatographs or various other analytical instruments. For liquid chromatograph users, it also has the ability to display the substance and mass to be weighed according to the registered recipe and support the formulation of buffer solutions*.
It also means the automatic door and other actions, including specifying open, close, and stop positions for doors, can be controlled from a computer. Even if AP-AD series models are incorporated in the production line, such as for managing the coating amount by measuring the product before and after applying the coating agent, the entire production line can be controlled from a PC together with other equipment. It also contributes to automating laboratory operations for quality control applications.
*solution used during analysis to improve separation stability
For more details, visit
AP-AD Series