Customer's situation
Mirrors have got damaged frequently at output inspections of laser processing machines. Also, the likelihood of damage varies depending on the lot.
In addition, the similar damages has occurred also at maintenance replacements, and the service department has requested a resolution to them.
They would have wanted a stable supply of mirrors suitable for high-power lasers.
Advantages of Shimadzu products
★Advantage1: Film deposition technology that helps stable supply of superior laser resistant mirrors
Film deposition technology is important for the stable supply of superior laser resistant mirror. Based on an optimized coating design, Shimadzu controls deposition conditions and processes strictly to ensure stable film deposition quality.
In addition to film deposition technology, Shimadzu also controls substrate cleaning and inspection before and after film deposition thoroughly to achieve a stable supply of laser-resistant mirrors.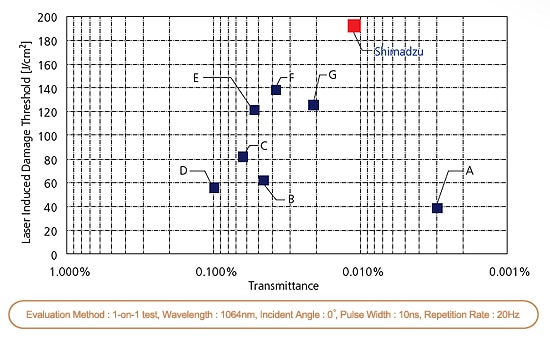 Laser Mirror Damage Thresholds and Reflectance
(Comparison with Other Companies)
Benefits by using Shimadzu products
The customer was able to eliminate the damages at both output inspection and maintenance replacement. In addition, they could reduce assembly time and component costs.
Customer's feedback
Thanks to Shimadzu mirrors, we could eliminate the mirror damage. Also, we are able to produce and ship laser machines with no worry.
We all appreciate Shimadzu's kind response to our various requests.
Shimadzu laser mirrors have shown good durability test results also in the higher power laser processing machines under development.