High-Precision, High-Quality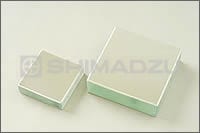 Surface accuracy of λ/6 has been achieved by a newly-developed latest replicating technology (conventional Shimadzu product:λ/2).

Stable quality due to premium quality master mirrors.

Proven mass-production technology secures steady supply of large quantities.
Off-axis parabolic mirror
This aspherical mirror, which focuses parallel light to the focus point without aberrations, or converts a point light source from the focuse point into parallel light without aberrations, is used in spectroscopic systems that require high resolution.
Product List(Table of Code Number)
Code Number*1
On-axis focal length
f(mm)
Off-axis focal length
f'(mm)
Off-axis angle
θ(°)
Dimensions W×H(mm)
Effective area FA(mm)
Central thickness T(mm)
SPA 275-07-6060
275
279.1
7
60×60
Φ56
16
SPA 350-03-4040
350
351
3
40×40
Φ36
10

Specifications
| | |
| --- | --- |
| Classification | Replica parabolic mirror*2 |
| Blank Material | Soda glass |
| Dimensional Tolerance(W,H) | 0/-0.2 mm |
| Central Thickness Tolerance(T) | ±0.2 mm |
| On-axis Focal Length Tolerance(f) | ±0.5% |
| Off-axis Angle Tolerance(θ) | ±10' |
| Surface Accuracy | Within λ /6*3 |
| Effective area(FA) | Ref table |
| Coating | Aluminum |
| Scratches & Digs | 80-50(as per MIL-O-13830A) |
*2:Paraboloidal surface is formed by resin.
*3:λ =632.8nm
※RoHS compliant (Directive 2011/65/EU + (EU)2015/863 on the Restriction of the Use of Certain Hazardous Substances in Electrical and Electronic Equipment)
※Thermal and Humidity Conditions for Storage:0℃ to 50℃, 50% RH max.(no conensation) *When temperature is from 0℃ to 40℃, humidity should be 80% RH max.
Schematic Diagram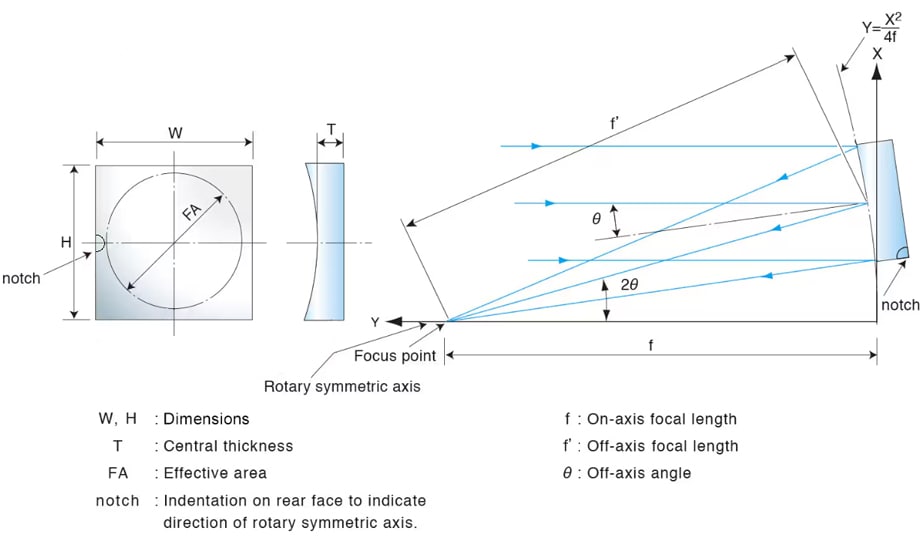 Paraboric Mirrors other than standard products are available

Specifications are subject to change without notice for improvement.

OEM prices are also available. Please contact Shimadzu for details.
For more information, please contact us.
This page may contain references to products that are not available in your country. Please contact us to check the availability of these products in your country.