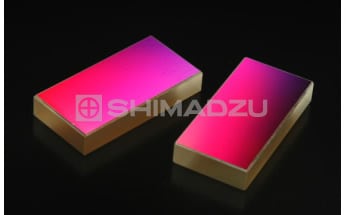 High relative diffraction efficiency for S-polarized near infrared light resulting in excellent performance for optical communication applications.

Less than λ/4 diffraction wavefront accuracy at 2nd order light ( λ=632.8nm).

Highest quality level of replicated gratings is achieved using the high accuracy holographic exposure method for the master gratings.
Code number for Standard items
Code number
Groove density
(grooves/mm)
Diffraction Wavefront
Accuracy*1
(λ=632.8nm)
Typical Relative Efficiency*2(λ=1550nm, at S-polarization*3)
Dimensions
W×H×T (mm)
G-NIR-095-
6030-N
950
2 λ
94%
60x30x10
G-NIR-095-
6030-S
950
λ/4
94%
60x30x10
G-NIR-110-
6030-N
1100
2λ
92%
60x30x10
G-NIR-110-
6030-S
1100
λ/4
92%
60x30x10
Custom orders are also available such as 1050 grooves/mm. Please contact us if you need other than standard products.
Standard Specifications
Grating Type
Equally spaced straight-groove replica grating*4
Blank Material
Borosilicate glass
Dimensional tolerances
±0.2(W)×±0.2(H)×±0.5(T)(mm)
Effective area
56(W)x26(H)(mm)
(56(W)x26(H)(mm) of ellipse for the wavefront)
Groove density tolerance
±0.5 grooves/mm
Relative efficiency*2
80 % min. (λ=1550nm, at S-polarized light (TM))
Coating
Au
Scratches and digs
80-50 (in accordance with MIL-O-13830A)
*1: It is measured at the second-order light of λ=632.8nm, where is close to the actually used wavelength at 1550nm.
*2: It is a value measured on littrow mounting.
*3: It is polarized light that has vibration of electric field oriented perpendicular to the direction of the grating grooves.
*4: The grating grooves are formed with resin.
※The external appearances and specifications are subject to change without notice.
※RoHS compliant (Directive 2011/65/EU + (EU)2015/863 on the Restriction of the Use of Certain Hazardous Substances in Electrical and Electronic Equipment)
Relative Efficiency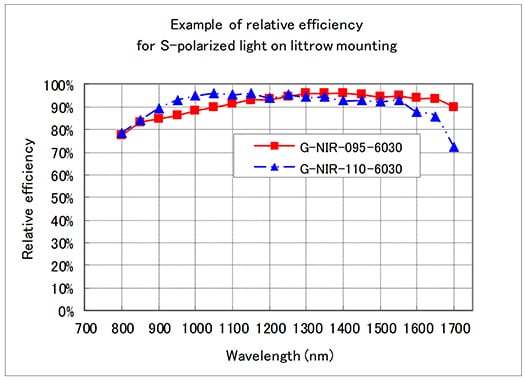 Outline Drawing