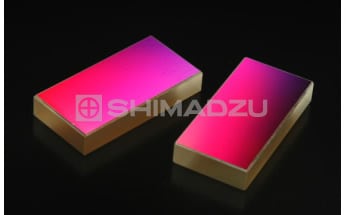 High relative diffraction efficiency for S-polarized near infrared light resulting in excellent performance for optical communication applications.

Less than λ/4 diffraction wavefront accuracy at 2nd order light ( λ=632.8nm).

Highest quality level of replicated gratings is achieved using the high accuracy holographic exposure method for the master gratings.
Code number for Standard items
Code number
Groove density
(grooves/mm)
Diffraction Wavefront
Accuracy (1)
(λ=632.8nm)
Typical Relative Efficiency (2)(λ=1550nm, at S-polarization (3))
Dimensions
W×H×T (mm)
G-NIR-095-
6030-N
950
2 λ
94%
60x30x10
G-NIR-095-
6030-S
950
λ/4(2)
94%
60x30x10
G-NIR-110-
6030-N
1100
2λ
92%
60x30x10
G-NIR-110-
6030-S
1100
λ/4(2)
92%
60x30x10
Standard Specifications
Grating Type
Equally spaced straight-groove replica grating (4)
Blank Material
Borosilicate glass
Dimensional tolerances
±0.2(W)×±0.2(H)×±0.5(T)(mm)
Effective area
56(W)x26(H)(mm)
(56(W)x26(H)(mm) of ellipse for the wavefront)
Groove density tolerance
±0.5 grooves/mm
Relative efficiency (2)
80 % min. (λ=1550nm, at S-polarized light (TM))
Coating (vacuum evaporation)
Au
Scratches and digs
80-50 (in accordance with MIL-O-13830A)
(1)It is measured at the second-order light of λ=632.8nm, where is close to the actually used wavelength at 1550nm.
(2) It is a value measured on rittow mounting.
(3)It is polarized light that has vibration of electric field oriented perpendicular to the direction of the grating grooves.
(4)The grating grooves are formed with resin.
※The external appearances and specifications are subject to change without notice.
Relative Efficiency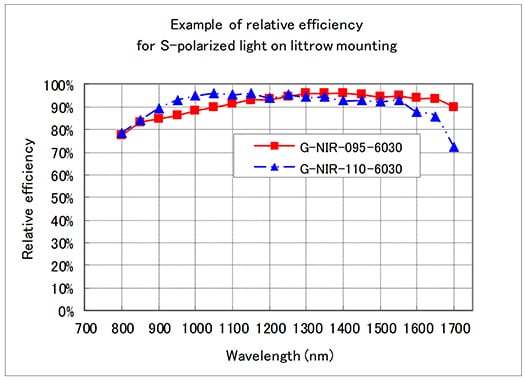 Outline Drawing