Preventive Medicine and
Early Diagnosis
Identifying Biomarkers for Diagnosing or Predicting Diseases
Slowing Aging and Preventing Dementia
Infectious Disease Testing
Drug Discovery Support and
Regenerative Medicine
iPS Cell Differentiation and Culturing
Organoid Culturing
organ-on-a-chip
Bioanalysis

Smart Cell Industry
Bioeconomy
Microorganism Identification/Screening
Transomic Data Analysis
Microbiome
Research Examples
HYDROX Three-Dimensional Nanofiber
In 2016, Shimadzu developed a simple three-dimensional culturing method by creating HYDROX 3D nanofiber from Shimadzu's unique chemically synthesized polymer (HYDROX raw material polymer)*5. In the actual culturing process, dissolved HYDROX raw material polymer is dripped onto a culture plate and then dried to form a dried gel coating at the bottom of the plate. Then a cell suspension is added to the created gel, which absorbs the water to form HYDROX 3D nanofibers. That process causes the cultured cells trapped in the nanofibers to aggregate and form 3D cell clusters. Furthermore, adding excess water breaks down the HYDROX nanofiber structure so that only cell clusters can be easily collected.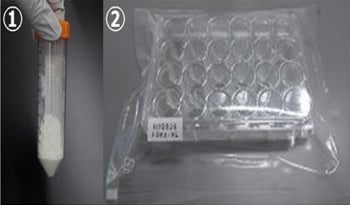 Visualization of Cell Culture Status by Metabolomic Analysis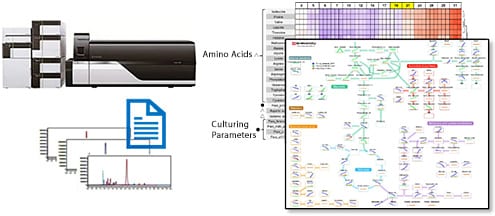 Shimadzu is developing a technique for visualizing the cell culture status and a parameter optimization technique using LC/MS/MS metabolomic analysis. For example, for the antibody production process using CHO cell lines, we established a workflow for all steps i.e., pretreatment, LC/MS/MS analysis, data analysis, and metabolomic analysis. We are also developing a tool for clearly visualizing the culture status in more detail than possible when using conventional culturing parameters. By offering a tool that can objectively determine the culture status, we aim to develop advanced processes more efficiently, such as by verifying the equivalence of cultivation parameter settings during the optimization and scaling up of culturing processes.