Becoming a Country that Attracts Scientists from around the World
How Science and Technology Contributes to National Growth Strategy in Thailand
Our corporate web content, "MOMENTUM," features stories of collaboration with our partners throughout the world. The site introduces their efforts and passion behind to address today's social challenges.
Today, we introduce the article, "Initializing Thai National Institutes" describing efforts by Thailand's National Science and Technology Development Agency (NSTDA) to make Thailand a global leader in science and technology.
Role of the National Science and Technology Development Agency (NSTDA)
The National Science and Technology Development Agency (NSTDA) was established in 1991 as a government agency to accelerate science, technology and innovation development in Thailand. The NSTDA's mission is to respond to the need of the industry and enhance the country's competitiveness in the global economy.
Dr. Narong Sirilertworakul, President of the NSTDA, emphasized the importance to working together across boundaries to achieve its goal of creating solutions that meet Thailand's needs. He said "In order to do that, we need to become better known among researchers throughout the world."
NSTDA Characterization and Testing Center and Shimadzu's Diverse Analytical Instruments
The NSTDA Characterization and Testing Center (NCTC), established in 2015 has cutting edge analytical and testing facilities where many Shimadzu instruments including liquid chromatograph and gas chromatograph mass spectrometer systems are working.
The Center offers a wide range of analytical testing services, including evaluating physical properties and analyzing chemicals. In 2019, NCTC fulfilled over 4,000 orders to provide analytical services to pubic institutions and private sectors.
NCTC Director Dr. Natthaphon Wuttiphan explained that "By sharing their analytical science technology and expertise, Shimadzu is helping NCTC employees to become technology experts. The acquisition of science and technology plays an extremely important role in Thailand's industrial development."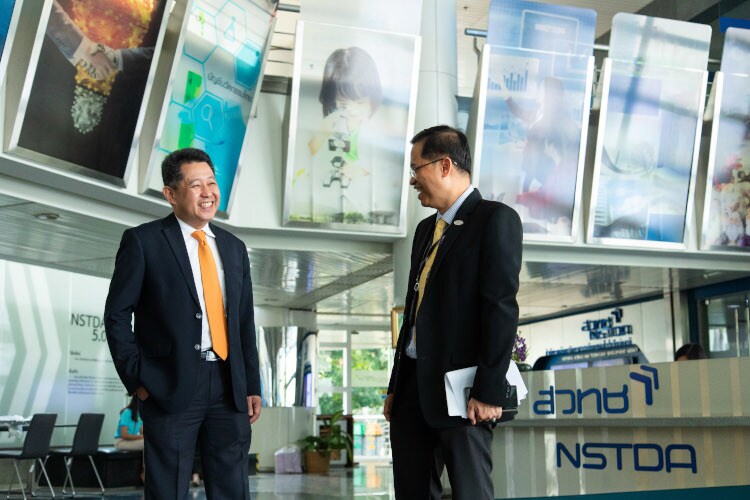 NSTDA President Dr. Narong Sirilertworakul (left) and NCTC Director Dr. Natthaphon Wuttiphan (right)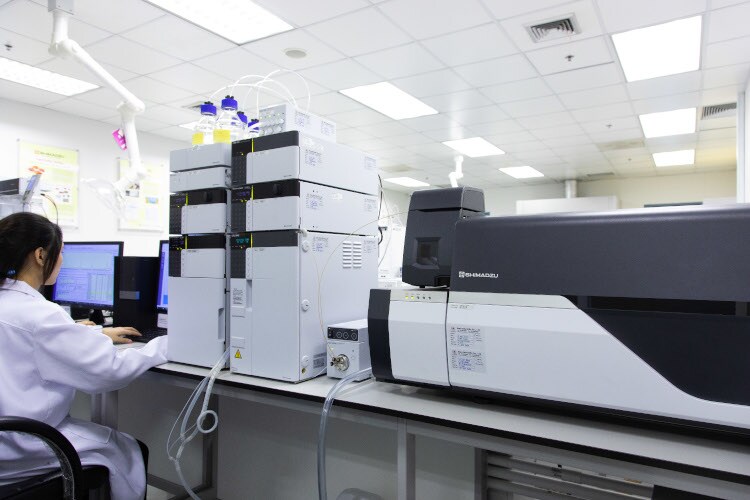 Shimadzu Liquid Chromatograph Mass Spectrometer at NCTC lab
Building an International Network of Scientists
NSTDA President Dr. Narong believes that the introduction of state-of-the-art instruments and collaboration with companies at NCTC and other research institutions in Thailand will not only promote research itself, but also serve as a driving force to attract more human resources to scientific fields of the country.
As a result, many researchers have come to Thailand from neighboring countries, such as Cambodia, Myanmar, Laos, and Vietnam, to obtain academic degrees. Dr. Narong believes that researchers who come to Thailand find the country attractive and extend their stay after acquiring an academic degree, and returning to their home country will help expand Thailand's international network.
We have a big goal. That is to raise the quality of life of the Thai people. By combining Shimadzu's expertise in analytical science and Shimadzu's broad line of instruments with Thailand's advantage in abundant natural resources, we are undoubtedly moving closer to achieving that goal.
■ To read the entire article "Initializing Thai National Institutes," click here.
Note: The titles and affiliations of people mentioned in the article were current as of the interview date in January 2020.
Comment from the Shimadzu On-Site Interviewer
NSTDA/NCTC was a lively place with many young researchers and chemists. NSTDA's Dr. Narong, on the other hand, is concerned about the small number of Thai students aspiring to become scientists. One reason lies in the difficulty of understanding what the work of scientists involves, compared to other professionals like a doctor, for example. He emphasized the importance of educating the next generation of scientists and disseminating information.
Interviewing President Dr. Narong and Director Dr. Natthaphon made me realize their strong sense of "human connection" on a global-scale, including the development of networks among scientists and sharing companies' expertise with scientists.
Page Title and URL Copied.