Shimadzu 8th Global Pharma Summit 2021 a Huge Success!

Shimadzu Asia Pacific (SAP) organized and held the Shimadzu 8th Global Pharma Summit 2021 on 19 November. This is a global flagship event that provides a platform for the global pharmaceutical industry to network, share and discuss strategies for the future.
Futuristic Experience in Virtual 3D Showcase
Before the COVID-19 pandemic, SAP had hosted this technology forum at the Marina Bay Sands in Singapore. This year, it was held "Phygitally" (Physically + Digitally) for the first time. Over 2,000 global pharmaceutical leaders from more than 100 organizations in 18 countries participated in the event to develop business transformation strategies using "Pharma Digital Transformation (DX)". While most of the attendees took part in the online showcase, some industry leaders convened at in-person venues in India, Nepal, and Sri Lanka. The event was broadcast online in two time zones for the benefit of attendees from various regions of the world, including the United States, Europe, the Middle East, Africa, and Asia.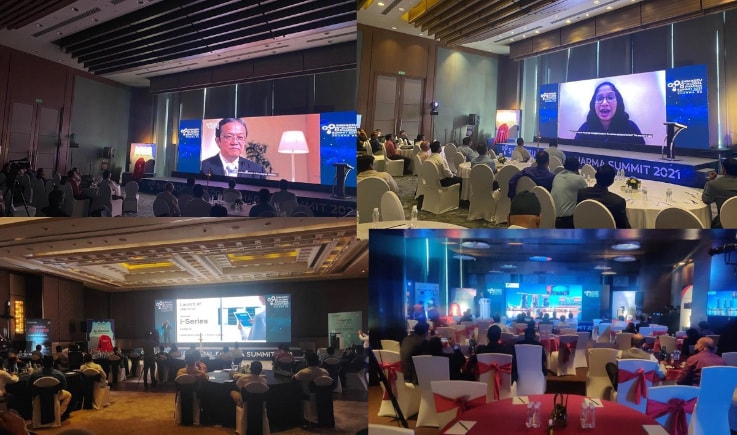 Some industry leaders joined in-person at several venues
Using Computer-Generated Imagery (CGI) and Augmented Reality (AR) techniques, the summit delivered the full experience of a physical summit virtually on the internet. You can still experience the virtual forum through its on-demand site until November 18, 2022. That on-demand site is available here.
Welcome Address by President Teruhisa Ueda
President Teruhisa Ueda delivered a welcome address online to all attendees of the summit. He mentioned, "Under the COVID-19 pandemic, the role of pharmaceutical industry became more important than before. Society is currently undergoing major changes, and thus we need to improve ourselves continuously to encourage innovation in technology. Our objective is always about offering long-term value to our customers and increasing the efficiency of the pharmaceutical industry. We must work together to overcome social challenges in this "New Normal" world and realize our wishes for the well-being of mankind and the earth. At Shimadzu Corporation, we will try to create common values for realizing a sustainable society."
President Ueda gave a welcome address online
Speakers & Panelists
To make the content of the summit valuable for the entire audience, a wide range of speakers and panelists from around the world shared their knowledge. The panel discussion was held under the theme of "Pharma DX". From Shimadzu Corporation, Masami Tomita, Deputy General Manager, Analytical & Measuring Instruments Division, joined in the discussion.
Analytical Intelligence & Workflows for a Flexible Working Style
Shimadzu's machines with "Analytical Intelligence" features, such as the i-Series HPLC, were introduced at virtual showrooms of the summit. Analytical Intelligence describes automated support functions utilizing digital technology, such as M2M, IoT, and Artificial Intelligence (AI), that enable higher productivity and maximum reliability. These features help to improve the efficiency of the entire workflow and maximize analytical throughput in the pharma laboratory.
Six different workflow stations were open in a Pre-Summit. These stations included a unique drug discovery workflow, total biopharma workflow, work-from-anywhere QA/QC workflow, and tech-celeration solutions for pharma. Each workflow provided visitors with a full set of information – from a range of applicable instrumentation to on-demand videos presented by our specialists and related literature. As the names of the workflows indicated, each of these stations featured a comprehensive description of the different workflows that the participants can utilize in their laboratories.
QA/QC Work-From-Anywhere Station
At the summit, a new Living LC that can improve work efficiency and provide a more flexible working style was unveiled. The new LC system keeps the excellent performance of its predecessor but also addresses the demands of an increasingly varied range of users, locations, and approaches to analysis while always delivering highly reliable analytical results.
Prem Anand, Executive Officer and Senior General Manager of SAP said, "Living Instruments are an emerging wave of technologies that incorporate the dynamics of human life in technology. Some examples of Living Instruments are Self-Driving Transportation and AI Surgery Robots, which are completely transforming our lives. Shimadzu is committed to developing analytical instruments that operate autonomously without human intervention. Shimadzu's vision for the lab of the future is "a platform for autonomous scientific discovery by robots and AI".
Prem Anand, Executive Officer and Senior General Manager of SAP,
speaking in the virtual forum
Transform the Future of Pharma Together
Tetsuya Tanigaki, Managing Director of SAP, mentioned, "The theme of this year's summit was Pharma DX. I am glad that there were various trending topics, including AI Deep Learning, Robotics, Continuous Manufacturing, and Living Technology. We hope that the summit provided all attendees with tools to undertake Digital Transformation in business."
The Shimadzu 9th Global Pharma Summit will be organized in 2023. It will focus on the challenges that the global pharmaceutical industry encounters in the next two years. Shimadzu will always support the pharmaceutical industry, not only by organizing these summits, but also by offering advanced solutions that address challenges and solve problems.

Page Title and URL Copied.