Closer to Customers - Customer Support Center Laboratory in the Philippines
Shimadzu Philippines Corporation (SPC) launched a video introducing its Customer Support Center (CSC) Laboratory!
The laboratory has been playing an important role in meeting customers' application challenges with state-of-the-art lab instruments and a team of trained application chemists.
Shimadzu Philippines Corporation
SPC, located in Metro Manila, Philippines, is a subsidiary of Shimadzu Corporation offering analytical & measuring instruments and medical systems. With 106 employees, SPC provides prompt and reliable customer support, such as equipment maintenance, upgrading instruments, and delivering spare parts. Also, as part of their customer support, SPC offers various training programs for users at the CSC Laboratory, showing how to operate the equipment and discussing the various applications.
History of Customer Support Center Laboratory
The history of the Laboratory, initially named "Applications Laboratory", dates to 2000 when it was staffed with only two chemists and was equipped with a handful of instruments. Since its establishment, SPC has conducted many analytical instrument demonstrations, small group seminars and training for users at the laboratory. After every installation, or before if requested, the chemists provide on-site training, which is one of the essential features of SPC's customer service, to build closer relationships with customers and to better address their needs.
After moving the office to Bonifacio Global City, SPC renamed the Laboratory to "Customer Support Center" in 2009. At the same time, CSC gradually expanded their fields and objectives; for example, application development and training, troubleshooting for instrument operation, pre-sale and post-sale support for employees in the sales and service departments, and laboratory management.
The number of employees and instruments has increased in the years since its establishment. The Center includes ten different instruments and nine licensed chemists and chemical technicians conduct analysis and evaluation requested from various academic institutions and companies.

Nowadays, CSC carries out different kinds of analysis, including natural product profiling by GC/MS, analysis of residual solvents in packaging material, pesticides analysis in food, and FTIR analysis.
Comment from Senior Manager of CSC
The synergy between the CSC facility and team members has given the laboratory more value. I am honored to have worked as a member of this laboratory with dedicated and talented colleagues for a long time. We have honed our expertise by working hand-in-hand with our SPC colleagues, Shimadzu Asia Pacific members, SEA region colleagues, and our partner clients. I believe that CSC's work is one of the main reasons for the success of SPC.

Our small laboratory is still developing. We will be able to make a difference together through the company's investment in technology and reliable support by our specialists. These two combined have made CSC what it is today – a vital part of the SPC family.

(Arturo Torres, Senior Manager of Customer Support Center)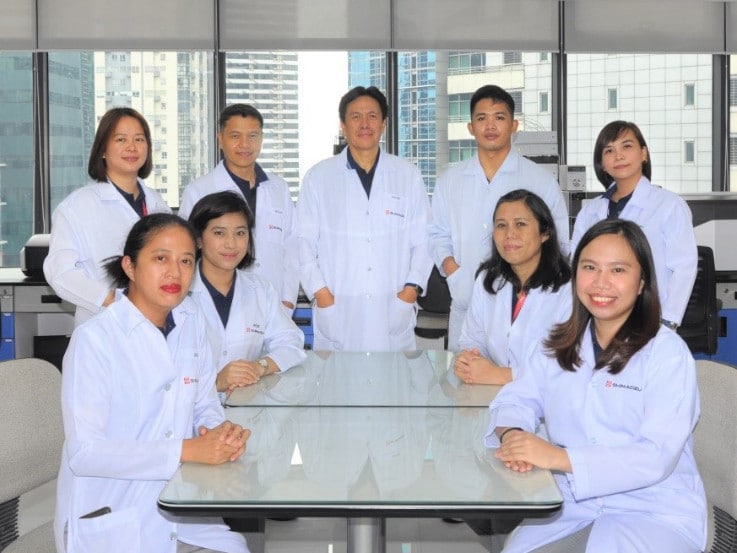 Chemists and Chemical Technicians of the Customer Support Center Laboratory (CSC)
(Center of the back row is Arturo Torres, Senior Manager of CSC.)
The existence of the CSC Laboratory strengthens SPC's capability to meet customers' analytical needs with unique technologies and solutions in the Philippines. SPC's experienced team can demonstrate instruments, including tandem mass spectrometry units (LC-MS/MS & GC-MS/MS), and conduct various training programs tailored to the needs of its customers. Though the seminars were not held in 2020-21 due to COVID-19, CSC will continuously provide solid support for each customer, and try its best to create better relationships with all partners and clients.
Page Title and URL Copied.